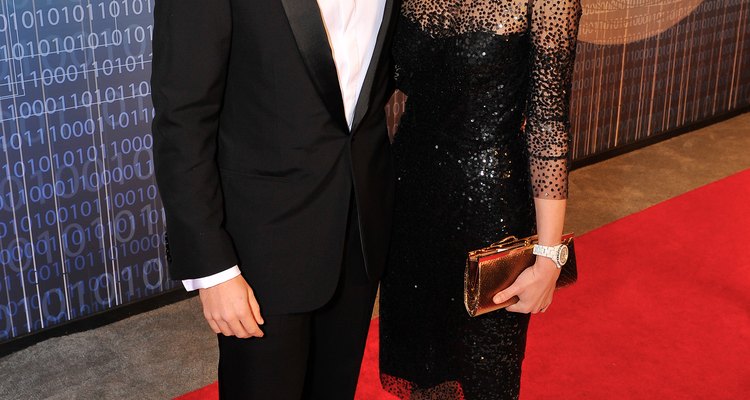 Steve Jennings/Getty Images Entertainment/Getty Images
While the hierarchy between formal and semi-formal dress is slightly alluded to in their names, it is not always entirely clear what is expected by each. Formal dress generally encompasses white tie and black tie dress codes, while semiformal is slightly more relaxed, and is sometimes referred to as "cocktail," "Sunday best," or "festive" dress.
Women's Formal Dress
Women who receive an invitation marked "formal dress" can assume that they should follow the guidelines of black tie. In this case, a long gown is perfectly appropriate and elegant, however, a festive cocktail-length dress or elegant dressy separates are also acceptable -- so long as they convey a sense of refinement. If the invitation specifically indicates "white-tie," however, women should wear a full-length evening gown.
Men's Formal Dress
The men's formal dress codes of white tie and black tie both require the elegance of a tuxedo; the former requires one with a tailed jacket, white-colored shirt and bow tie. Some formal events will denote "black-tie optional", at which either a tuxedo or a dark suit is considered appropriate. If an invitation simply states that you should arrive in "formal dress", a classic tuxedo is the most appropriate choice.
Women's Semi-Formal Dress
For women, a "semi-formal" dress code dictates party-appropriate attire, but it does not require an evening gown. Shorter, knee-length cocktail dresses and classic little black dresses accessorized with heels and jewelry are good choices for semi-formal events. If the event is taking place in the daytime or outdoors, such as a garden party, a nice floral sundress or dressy blouse and skirt accessorized with jewelry can also be appropriate.
Men's Semi-Formal Dress
While tuxedos would not be appropriate at a semi-formal event, men should remain elegant and neatly dressed and wear a dark-colored suit and tie instead. Shoes should remain dressy, and men can wear a vest or add a pocket square as accents. If a semi-formal event is outdoors or in the daytime, a light-colored suit and tie in a summer-weight fabric can be appropriate.
The Gray Areas
There are times when you might receive an invitation in which the lines between formal and semi-formal seem to be blurred. "Creative black-tie" is an oft-used dress code that still implies formal dress, but suggests that both men and women take a few creative liberties with their ties, shoes, or other accessories. By contrast "casual elegance" usually implies a semi-formal dress-code, and allows men and women to err on the side of summer or daytime suits and dresses. In these cases, however -- and whenever you're in doubt -- check with the host.
References
Writer Bio
Aiden Summer is a creative production consultant for artists, architects and designers.
Photo Credits
Steve Jennings/Getty Images Entertainment/Getty Images