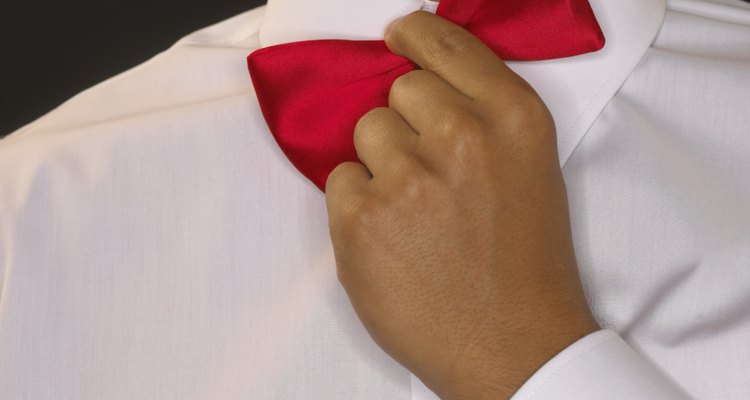 Burke/Triolo Productions/Stockbyte/Getty Images
Many formal events require "black tie" attire, but the term cannot be defined singularly. Attire for black tie affairs can be noted as strictly formal, optional and even slightly unconventional. The latter incarnation, referred to as "creative black tie," combines formal dress with elements of whimsy.
Traditional Black Tie
For men, traditional black tie clothing consists of a black tuxedo jacket with matching pants and a white dress shirt. Bow ties are typically worn and paired with a vest or cummerbund; however, all three options must be black. Black dress shoes and black socks complete a man's black tie outfit. For women, black tie attire requires a floor-length gown for evening events. A dressy cocktail or black dress is appropriate for formal events taking place during alternate times of the day.
Creative Black Tie
When an occasion calls for "creative black tie," guests are given permission to add some nontraditional elements to their attire. Men's and women's dress should remain predominantly formal, but trendy and flashy accents can supplement a creative black tie outfit. Splashes of color and unique accessories are commonly seen at creative black tie events. Bright-colored shirt studs and cuff links for men and tiaras for women would be two appropriate uses in this formal setting. Creative elements may also be dictated by the type of event. Creative black tie affairs occurring during certain holidays, for example, may inspire attendees to follow a specific theme and wear festive accessories.
Creative Black Tie Tips for Men
Men who are attending creative black tie affairs are expected to wear a tuxedo jacket and matching trousers to maintain a formal sense. Creativity is displayed through color choice, patterns and accessories. Gentlemen may opt for a fashionable black dress shirt and no neckwear in lieu of the more traditional white button-down shirt and bow tie. Instead of the standard black-colored ties and cummerbunds, these accessories can feature a fun pattern such as paisley, plaid or stripes. Special pocket squares may also creatively enhance the outfit. For example, a red, white and blue silk pocket square can add a whimsical touch at a Fourth of July occasion. Creative black tie can also extend to formal themed events. A creative black tie event with a cowboy theme, for example, may inspire men to combine a tuxedo with a bolo tie, a bright-colored vest or even a fancy Stetson hat.
Creative Black Tie Tips for Women
Like their male counterparts, female guests of creative black tie events should still follow the dress codes of a normal black tie affair. Evening gowns and cocktail dress are expected, but creativity can be showcased through fun and trendy accessories and jewelry such as earrings, bracelets and brooches. For a winter holiday event, women may accent their formal regalia with a red and green colored, Christmas-inspired necklace. For a summer formal event, a fresh flower tucked behind an ear adds just the right amount of creativity to an outfit.
References
Writer Bio
Diane Bautista has more than seven years of professional experience writing for a variety of industries including fashion retail, communications technology and nonprofit. She currently works as an advertising copywriter and holds a B.A. in English from Washington State University.
Photo Credits
Burke/Triolo Productions/Stockbyte/Getty Images