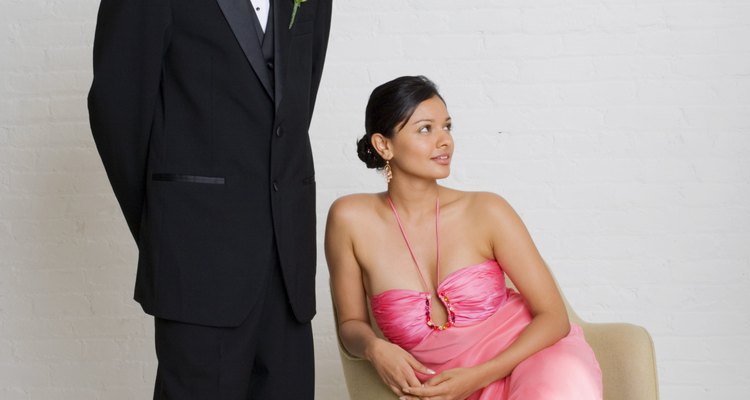 Creatas Images/Creatas/Getty Images
You open the glossy envelope of your cousin's slick wedding invitation, only to reveal that it's a decidedly formal affair. Whether the invite says "black tie" or spells out the dress code as "formal wear," following proper etiquette when it comes to this uber-fancy style of attire is a must. Don't fool yourself into thinking that any old dress or suit will make the cut when it comes to appropriate etiquette. Instead, take some time to ensure that your ensemble meets formal wear guidelines.
Creatively Crafting the Wording
While saying, "You must wear formal attire" seems like the logical request, some invitations are somewhat cryptic when it comes to their dress code language. According to the etiquette experts at Emily Post, formal wear comes in several different types of wording such as black tie, white tie, creative black tie and -- the ever-confounding -- black tie optional. These all basically mean the same thing -- except for black tie optional, which gives you the choice of going formal or simply dressy -- and you should choose similar attire for any of these styles.
Which Tie Means What?
As the Emily Post website notes, some formal wear dress codes refer to the style as either "black" or "white" tie. If you are dressing for a wedding, party or other event that uses one of these terms, understanding the differences is key. Traditional black tie for men means a black tuxedo with a matching -- black -- bow tie and cummerbund. White tie still means wearing a black tux, or tails, but includes white accessories. For women's dress, black tie affairs call for a formal gown or a dressy cocktail dress while white tie attire means wearing a floor-length gown.
Making the Most of a Man's Outfit
Although men don't have the option, at least not at a formal event, of accessorizing with jewels, they can add to their ensemble with a few key pieces. Keeping consistent with the formal wear attire ideal, men must wear a bow tie and typically a cummerbund or vest. If the invite doesn't specify black or white tie, you can choose any color that you want. Other ways that you can dress up your attire are to add studs and cuff-links to your shirts, and suspenders to your pants.
Working Woman's Formal Attire
Whether you choose a floor-length ball gown or a shorter, dressy cocktail number, adding accessories to your formal wear can make or break your overall ensemble. While long gloves aren't a must, you can add them to a full-length gown. You can also wear jewelry -- such as a necklace or earrings -- that coordinate with your dress. Avoid anything that looks casual such as a braided fabric necklace or plastic bangle bracelets. Instead, go with costume or jeweled pieces.
References
Writer Bio
Based in Pittsburgh, Erica Loop has been writing education, child development and parenting articles since 2009. Her articles have appeared in "Pittsburgh Parent Magazine" and the website PBS Parents. She has a Master of Science in applied developmental psychology from the University of Pittsburgh's School of Education.
Photo Credits
Creatas Images/Creatas/Getty Images