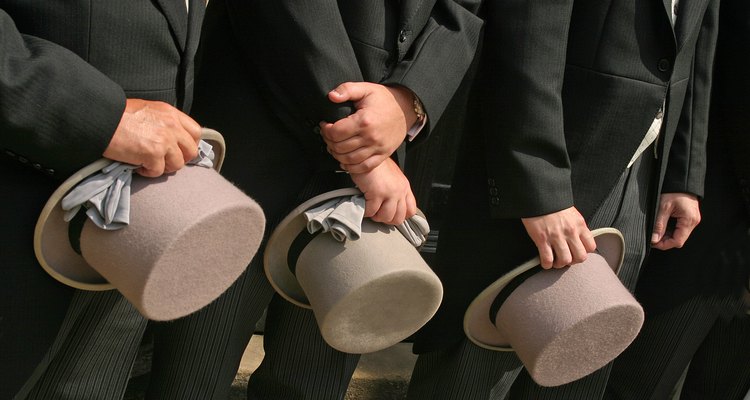 Gordon Ball/iStock/Getty Images
An usher's clothing should match the groomsmen, at least in basic style and color, otherwise it may look like he showed up at the wrong wedding. The specifics for usher apparel depend on the theme and style of the wedding, as well as the wishes of the bride and groom. Generally, the goal for the usher is to dress nicely and to look as though he belongs without completely matching the groom.
Fashionable Faux Pas
Although the usher's outfit should match the groom and groomsmen appropriately, according to the dress requirements of the wedding, the ushers should never wear the same tuxedo as the groom. The groom is one of the focal points of the wedding day, and his attire should set him apart from the ushers. If all the groomsmen wear tuxedos matching the groom's, the usher may as well; a boutonniere or other adornment should set the usher apart.
Suited for Tradition.
Some traditional weddings are planned out very specifically and require the ushers to have their suits made. Often, the usher's suit will match the groomsmen's suits in this situation. "Making slight color changes in the boutonniere, shirt, vest, or tie is an excellent way to separate the groomsmen from the usher," says Sue Fox, author of "Wedding Etiquette for Dummies."
Non-Traditional Weddings
Instead of choosing a specific suit or tuxedo for the ushers, or requesting them to wear their own tuxedos, ushers may be asked to wear their own dress suits (or informal outfits) for the wedding day. In this case, they may be given a color scheme to follow, or not.
Labeled Lapels
One way to lend a more organized dress theme for ushers, whether they are wearing specific suits or not, is to have them wear usher pins or boutonnieres that will distinguish them as ushers. If boutonnieres are also worn by the groom and/or groomsmen, those worn by the ushers should be slightly different, but coordinated to complement them.
Keep it Simple
While a wedding should be planned and coordinated depending on what the bride wants her special day to look like, when it comes to colors, it is possible to over-coordinate. "Avoid the temptation to color-coordinate the men's clothing with the color of the wedding because the result (will) detract from the dignity of the occasion… those pictures will look dated indeed," say Marjabelle Young Stewart and Elizabeth Lawrence, authors of "Commonsense Etiquette: A Guide to Gracious, Simple Manners for the Twenty-First Century.
References
Wedding Etiquette for Dummies; Sue Fox
Commonsense Etiquette: A Guide to Gracious, Simple Manners for the Twenty-First Century; Marjabelle Young Stewart and Elizabeth Lawrence
Writer Bio
Helena Cain began writing and editing professionally in 2002. Her work has been published in magazines such as "Better Living Magazine," "Playboy" and "Budget Living." She received her Bachelor of Arts in journalism from the University of Cincinnati.
Photo Credits
Gordon Ball/iStock/Getty Images