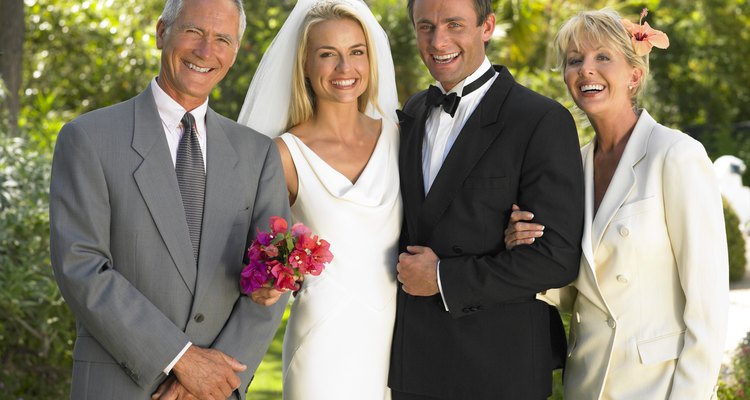 BananaStock/BananaStock/Getty Images
When your son or daughter is getting married, you likely want to look the best that you can on the big day. However, when you are choosing your attire, you have to keep in mind that the wedding day is not your big day. Although it is an important day in your life, the bride and groom and their wishes should be respected on the wedding day. Both the mother of the bride and the mother of the groom should keep wedding attire etiquette in mind when they go shopping.
Colors
The new mothers-in-law will be incorporated into many family pictures at the wedding. As such, their dresses should not clash with the rest of the wedding. It's traditional to avoid white, ivory or cream dresses so that the mothers-in-law don't wear the same shade as the bride. Wearing black can seem like the mothers are in mourning and a bright, flashy color, such as red, can look like too much. The mothers also should not choose a shade that will clash with the bridesmaids. While the mothers do not have to match the bridesmaids, choosing something in the color spectrum is wise. Speak to the bride about her preferences before choosing the dress.
Style
The mothers of the bride and groom do not have to look dowdy at the wedding. With that said, they also should not look too sexy or flashy. Select a dress that fits your style, but does not make you look as though you are trying to get attention that should be devoted to the bride. If you don't like to wear dresses, talk to the bride and find out if she is OK with you wearing a formal pantsuit.
Mother of the Bride
While it is not mandatory, tradition and etiquette says that the mother of the bride should choose her dress before the mother of the groom. She should shop with the bride, so that the bride has a say in what she wears. After she purchases her dress, she should speak with the mother of the groom to let her know what she purchased. She can also let the bride or groom do this if she feels uncomfortable.
Mother of the Groom
Although tradition and etiquette says that the mother of the bride should buy her dress first, the mother of the groom does not have to wait if it is inconvenient. However, the mother of the groom should attempt to dress in the same color palette and general style of the mother of the bride. That way, the family pictures look more cohesive.
References
Photo Credits
BananaStock/BananaStock/Getty Images