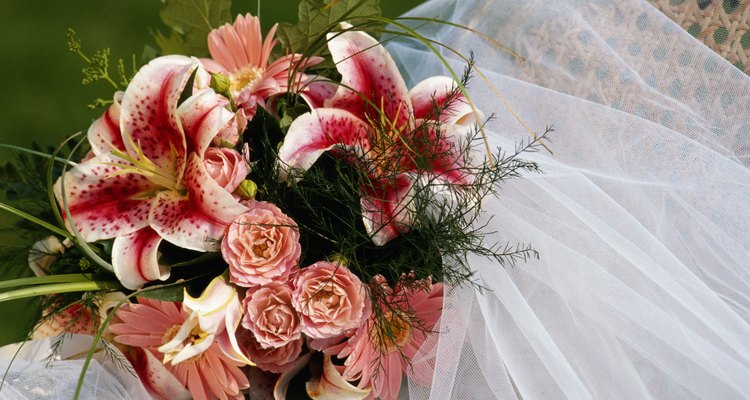 David De Lossy/Photodisc/Getty Images
Traditionally, the mothers of the bride and groom wore corsages to represent their importance in the wedding party. Today, the rules have relaxed. Mothers of the bride can carry a bouquet of flowers, if the bride prefers. Most types of bouquets are appropriate, but they should complement the flowers of the wedding party and never eclipse the bride's bouquet.
Bouquet Options
A common bouquet choice for mothers of the bride is the nosegay, also sometimes referred to as a posy or tussie-mussie. These bouquets are smaller than those carried by the rest of the bridal party. Other mothers want floral pomanders because they are more unique but still beautiful. Pomanders are round bouquets made of flowers, usually with ribbon attached so it can be carried easily. In some weddings, the mother of the bride will refrain from carrying a bouquet at all and will instead carry a single flower, usually the same flower as the centerpiece of the bride's bouquet.
Guidelines for Mothers' Bouquets
The mother of the bride can decide whether to carry a bouquet, hold a single flower or wear a corsage, but the design of the floral bouquet should follow some guidelines. First, the size of the bouquet should always be smaller than that of the bride's. Second, the bouquet or corsage should include the same types and colors of flowers contained in the floral arrangements carried by the bridal party. If those colors clash with the mother's dress, for example, other colors can be used but they must complement the bridal party's color scheme. Furthermore, if the mother does choose other colors, they should never be bolder or brighter than those used in the bride's bouquet.
References
Writer Bio
Amy Jorgensen has ghostwritten more than 100 articles and books on raising and training animals. She is also an amateur dog trainer. She has also written more than 200 blog posts, articles, and ebooks on wedding and party planning on behalf of professionals in the field.
Photo Credits
David De Lossy/Photodisc/Getty Images