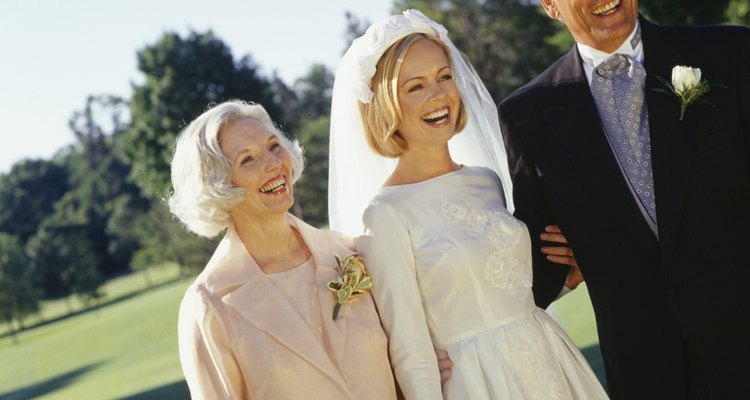 Buccina Studios/Photodisc/Getty Images
Aside from your own wedding gown, the dress you wear for your daughter's wedding is one of the most important wardrobe decisions you'll make. The mother-of-the-bride should stand out as a distinguished member of the wedding party, but she shouldn't upstage the bride. When choosing a dress, consider the formality of the wedding, the season, the wedding colors and how the dress will look in photographs.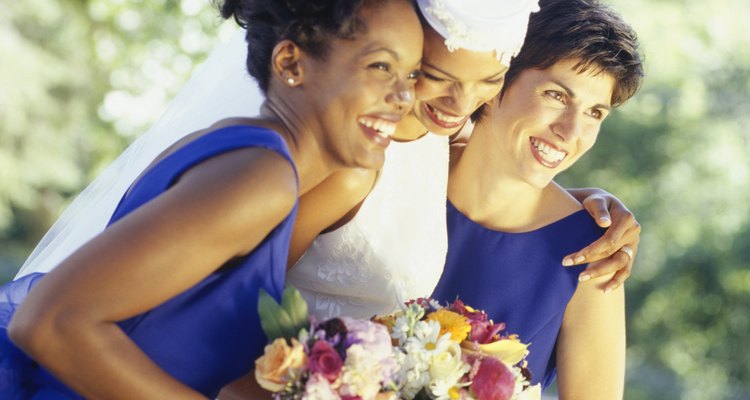 Buccina Studios/Digital Vision/Getty Images
Stay within the same color family as the bridesmaids. The mother-of-the-bride does not have to match the bridesmaids, nor should she. Choose a color in the same family (e.g., lavender for the bridesmaids and eggplant for the mother.) This way, the mother is associated with the bridesmaids but remains distinguished.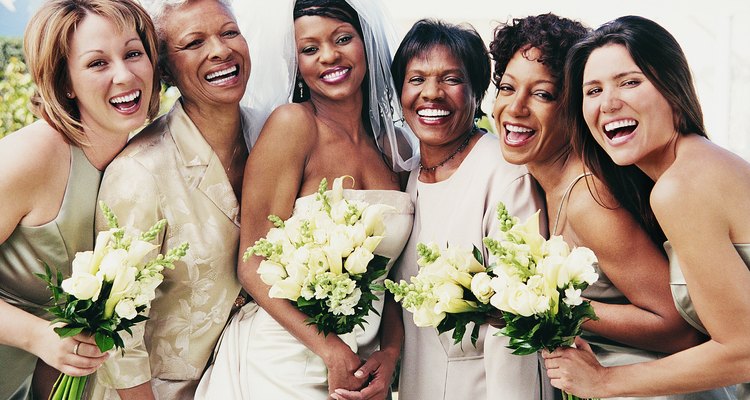 Digital Vision./Photodisc/Getty Images
Complement the bridesmaids. Complementary colors are those directly across the color wheel from one another. If the bridesmaids wear pink, choose a shade of green. For orange or yellow bridesmaids gowns, go with navy or another shade of blue. Analogous colors also work together to flatter each other. These are colors right beside each other on the color wheel. If the bridesmaids wear turquoise, try royal blue or sky blue.
Play up a secondary color. If the bride has chosen a palette of several colors for her wedding, dress in the color not used by the bridesmaids. If the wedding colors are spring green and daffodil, and the bridesmaids wear spring green, try a shade of yellow to bring out the secondary color.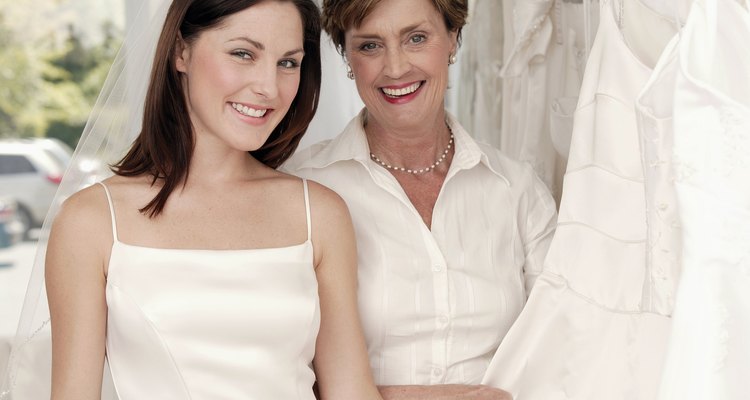 Comstock Images/Stockbyte/Getty Images
Stick with a classic. The most popular color for mothers-of-the-bride now is champagne. Shades can range from a light gold to almost pink, but tones of champagne can flatter any skin tone and are appropriate for all seasons. This color complements the white or ivory of the bride's gown without looking garish like a mother in white would.
References
Writer Bio
Emily Jarvis is a graduate of University of Georgia Grady College of Journalism. Her articles have appeared in "Southern Distinction Magazine" and "The Red & Black." Jarvis holds a Bachelor of Arts in magazine journalism and a Master of Arts in journalism.
Photo Credits
Buccina Studios/Photodisc/Getty Images