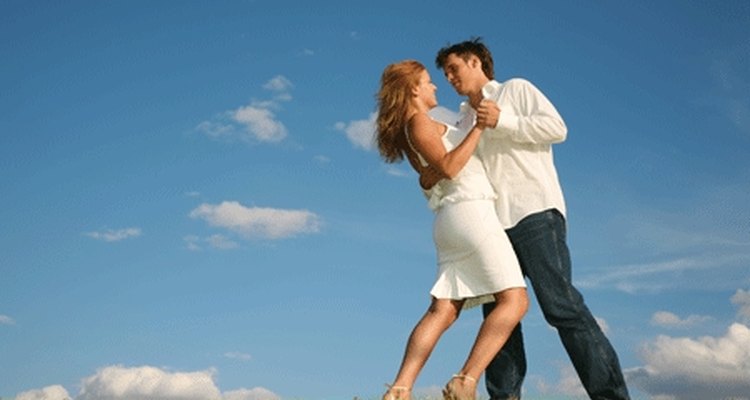 Choosing the right dress can be one of the most important parts of wedding planning for any bride, whether it's her first wedding or her third. With U.S. Census data indicating that the U.S. divorce rate has reached 10.7 percent, second and third weddings have become more common, bringing with them a host of potential etiquette questions. In general, third-time brides should choose gowns that suit the occasion---a simple dress or suit for a courthouse ceremony, or a long, elegant gown for a formal evening wedding.
White
If you fall in love with a white dress, it's perfectly OK to wear it for your third wedding.
White became the traditional color for wedding gowns when Britain's Queen Victoria wore it for her wedding to Prince Albert in 1840; before that, brides wore their "best" dress, regardless of its color. Many first-time brides today eschew white in favor of more flattering shades of ivory, but there's no reason a first-time or a third-time bride shouldn't wear white. Elizabeth Taylor---who was the bride in eight different weddings---wore white to several of her weddings, including the third one. Madonna, too, went all out with a white gown for her second marriage.
Ivory
Consider ivory. Most second- and third-time brides choose soft creamy shades of ivory for their gowns because these colors are wedding-like without being overly bridal. When Jacqueline Kennedy became Jacqueline Onassis, her simple ivory dress was elegance itself.
Pastels
If you want a festive dress that doesn't look like a traditional wedding gown, soft pastel shades work well. Camilla Parker Bowles dressed her ceremony dress up by choosing a long dress in pale hues when she married England's Prince Charles. Wallis Simpson opted for a pale blue suit when she married abdicating Prince Edward.
Your Favorite Color
If you want a dress in your favorite shade, by all means, choose one. It is, after all, your wedding, and you should get married in a dress you love.
References
Writer Bio
Holly Roberts is an award-winning health and fitness writer whose work has appeared in health, lifestyle and fitness magazines. Roberts has also worked as an editor for health association publications and medical journals. She has been a professional writer for more than 10 years and holds a B.A. in English and an M.A. in literature.