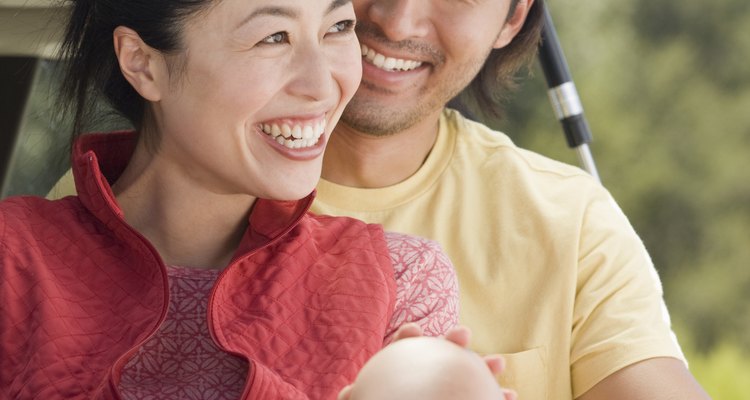 Stewart Cohen/Lifesize/Getty Images
When planning a wedding and choosing wedding attire, most brides focus on the wedding gown, veil, shoes and jewelry for the ceremony. While these pieces are the most important part of wedding attire, a bride should also plan for the post-reception outfit she will wear when leaving for her honeymoon.
Traditional
The traditional bride will most likely stay in her wedding dress. This is doable with only a few adjustments to make the dress as comfortable as possible for any traveling the couple will do to the honeymoon destination. Most wedding dresses come with detachable trains and veils. The traditional bride can detach these pieces, change her shoes and continue to wear her wedding jewelry.
Modern
The modern bride will most likely change from her wedding dress into a white or ivory cocktail dress or a light-colored suit. Depending on the dress or suit, the modern bride may decide to change out of her wedding shoes to shoes that coordinate with her new outfit -- and change her jewelry as well.
Whimsical
The whimsical bride will most likely change from her wedding dress into whatever outfit strikes her fancy, from a knee-length dress, to a second, less formal wedding dress to a pants suit. Typically, this bride will change her shoes and jewelry to something that coordinates with her outfit, but she may decide to leave on her veil.
Casual
The casual bride will mostly likely change from her wedding dress into more casual attire, such as a long, summer dress or nice jeans with a dressy top and blazer. Typically, this bride will exchange her formal wedding jewelry with more suitable casual pieces, and change her shoes to something with a low heel or a pair of embellished flats.
Other
Some couples plan for convenience by holding their reception in a favorite hotel and spending the first night of the honeymoon in that same hotel, especially for evening weddings. This allows the couple time to rest after the wedding before immediately getting on a plane or heading out for a long drive to the honeymoon destination. In this instance, the bride's apparel can be whatever she chooses, from a causal and comfortable outfit to something a little dressier.
References
Photo Credits
Stewart Cohen/Lifesize/Getty Images