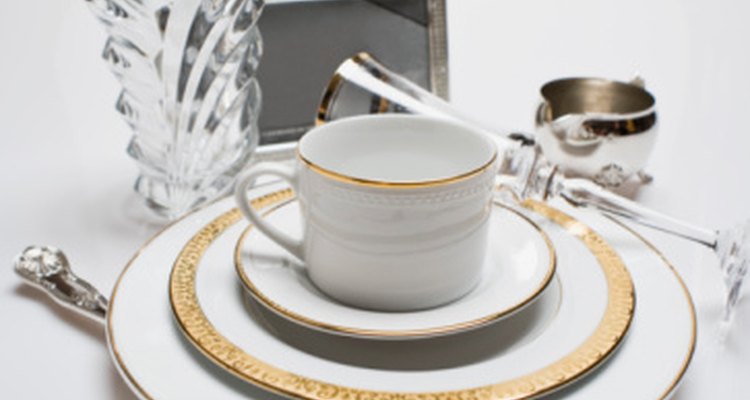 Dynamic Graphics/Creatas/Getty Images
Sweden is a country with its own wedding traditions and customs, including gifts that are given to the couple at their wedding. While some guests choose to stick to the more traditional Swedish wedding gifts, others opt for more modern wedding gifts to present to a Swedish bride and groom. Swedish wedding gifts can be given to couples who are not Swedish as well.
Gifts to Bride From Her Parents
An old Swedish wedding gift custom is for the bride to carry a coin in each shoe when she gets married. The mother of the bride will give her one gold coin that she will put into her right shoe, and the father of the bride gives her one silver coin that's to be placed in her left shoe. She will then leave them in her shoes during the ceremony. The coins are symbols that the bride's parents are ensuring that she will never go without.
Gift From Groom to Bride
It is a tradition in Sweden for the groom to give his bride three rings to wear on her wedding finger. One band will represent the bride and groom's engagement, which often times is quite long to ensure that the couple is sure about marrying one another. Another band will be worn by the bride to represent her marriage, and the third band is worn to represent motherhood, whether she is already a mother or will be in the future.
Gifts for the Home
Guests attending the wedding of a Swedish couple can present them with a gift for the home that they will be sharing. Items could include china, stemware, flatware, bowls, vases or other kitchen items. Many glass and crystal items can be ordered from Sweden and engraved with the couple's initials, last name or date of their wedding. Other gifts for the home can include candlesticks, votives, sculptures, artwork, embroidered towels or pillowcases, picture frames or a family Bible.
Swedish Gifts for All Couples
The bride and groom do not have to be of Swedish descent for you to give them a gift from Sweden. A Swedish baking cookbook can be given to the newlyweds so that they can learn how to make their own Swedish treats. Swedish kitchen towels can be purchased, with designs woven into the fabric. A gift basket can be made for the couple, by adding Swedish snacks and drinks--such as Swedish candy, cookies, bread mixes and coffee--to a nice basket. You could also order a Swedish welcome sign for them that says "Welcome to our home" in Swedish.
References
Photo Credits
Dynamic Graphics/Creatas/Getty Images