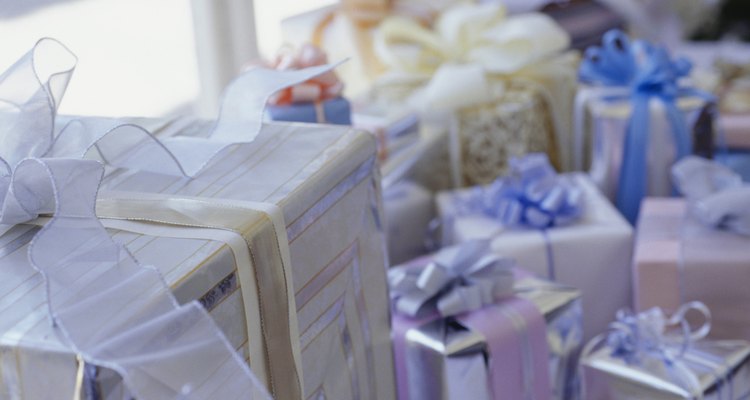 Buccina Studios/Photodisc/Getty Images
It can be difficult to find an appropriate wedding gift, but buying one for your best friend is especially daunting. You want to find something perfect, but it can be hard to figure out the ideal gift to commemorate the occasion and acknowledge your many years of friendship. Put some thought into your gift, but don't agonize over it. Often, the best and most memorable gifts are the ones that don't cost a lot and didn't even appear on the registry.
Step 1
Take your friend's living situation into account. If she's already living with her husband-to-be, chances are she doesn't need the basic sets of dishes and sheets that some brides register for. This means you can spring for the fancy comforter or spa-like bathroom towels rather than standard pillowcases or washcloths. Give her something luxurious that she will enjoy even if she's already set up her own house.
Step 2
Make a personal gift. This could be a photo album of candid shots taken at the bridal shower, bachelorette party and the wedding. Or it could be a framed copy of the sheet music from the couple's first dance. A book of recipes collected from guests or a hand-drawn portrait of the couple are other good ideas.
Step 3
Spend the right amount of money. The Knot, a wedding advice website, recommends planning to spend between $100 and $150 when buying a wedding gift for a close friend. However, if this isn't in your budget, a smaller and less expensive gift is also appropriate.
Step 4
Contribute to a large group gift. Many couples, especially those who have already set up house, register for a coveted piece of furniture, a big screen television or a honeymoon. Talk to the wedding party or a group of friends or relatives of the couple and pool your money to buy a larger and more expensive gift.
Step 5
Buy a personalized gift. This is a thoughtful idea that will hold special meaning for your best friend and make him to think of you each time he sees it. Monogrammed towels or a wall hanging with the couple's last name and the date of the wedding are good options.
Step 6
Buy a tasteful gift. The couple might open some of their gifts in front of guests, and it can be embarrassing to unwrap something too personal. Don't give sex toys or lingerie as a wedding gift. Save those items for the bachelor party or give them to your friend when you're alone.
References
Writer Bio
Eliza Martinez has written for print and online publications. She covers a variety of topics, including parenting, nutrition, mental health, gardening, food and crafts. Martinez holds a master's degree in psychology.
Photo Credits
Buccina Studios/Photodisc/Getty Images