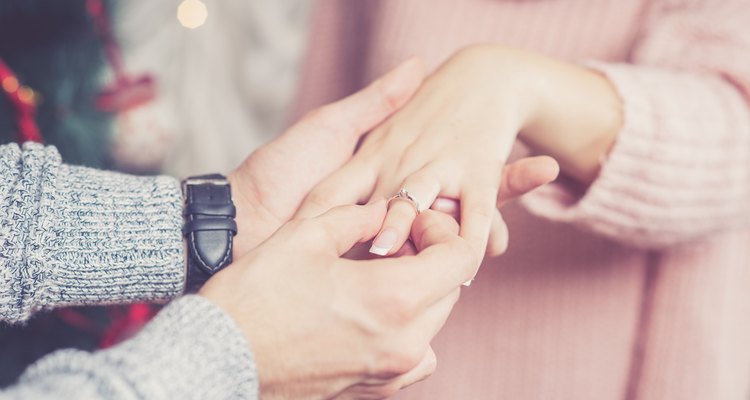 NikolaZivic/iStock/GettyImages
Modern-day engagement party protocol
The engagement party is usually the least formal part of the wedding process and the one that typically allows you to stray from tradition. That includes gift-giving, as in, you don't necessarily have to bring one. This can be a nice financial break since the cost of attending a wedding can wreak havoc on your budget. If you do decide to gift, feel free to keep it small.
To Gift or Not
It's typical for close family members to bring a gift to the engagement party, but there are no rules for any other guests. Gifts are not required for friends of the bride and groom, but it is certainly acceptable to bring a token to celebrate the moment if you choose.
If you don't want to show up empty-handed, whether you are close to the bride and groom or not, it's fine to use part of your wedding gift funds for the engagement gift. The general rule is 20 percent of your overall gift budget. Consider using the 60-20-20 rule if you plan to attend the engagement party, bridal shower and wedding, and you want to bring a gift to all three events. Using this breakdown, allocate 60 percent of your budget to the wedding gift, 20 percent to the engagement gift and 20 percent to the shower gift.
What to Give
The ideal engagement gift is something that celebrates the love of the soon-to be married couple. Consider giving them something they both would enjoy or a token that's representative of their union. For example, a set of two engraved champagne glasses, a select bottle of wine or champagne, a wedding planner and organizer, cookbooks, or a picture frame with either the engagement or wedding date engraved on it.
You can also choose "His and Hers" gifts to signify the matched set of the bride and groom. Some examples may be matching bathrobes, His and Hers coffee mugs, etched cocktail glasses, or possibly matching crystal ring dishes to store wedding rings. Don't forget about sweet treats, such as personalized cupcakes, chocolate-covered strawberries, or imported chocolate or candy.
Why Have an Engagement Party?
Sending a congratulatory text is nice, but something special like an engagement requires a more personal touch. The engagement party allows friends and family members to give well wishes to the happy couple in person. The party is also an ideal opportunity for both families to get to know each other much better. They are going to be tied together by marriage, so socializing in a fun setting for a happy occasion can help to break any ice or possibly meet the other side's family members for the first time.
The engagement party also can kick off the wedding planning, and having everyone together can help determine some of the logistics. Checking to see if family members are available on certain dates, or even a particular time of year, may seem tedious, but it assures that no one important will be left out. You wouldn't want to schedule your wedding during the same week that your grandmother has surgery scheduled, for example. This is also a good time for the bride and groom to recruit friends and relatives to help with the party-planning, even if they are not in the wedding party.
Who Pays for the Engagement Party?
The person who throws the engagement party is usually responsible for footing the bill. Traditionally, this honor goes to the bride's parents, but the groom's parents may help with the planning and cost. The groom's family may choose to throw their own party, which would take place at a date sometime after the bride's family has thrown theirs.
Alternatively, the bride and groom can give the party themselves. They may prefer a casual get-together rather than a formal party, or they may want to give their parents a break, since they will likely be involved in the wedding planning. There is nothing wrong with friends of the happy couple throwing the party, possibly at one of their homes or at a local bar or restaurant. Doing so can even be considered a wedding present.
References
Writer Bio
Based on the west coast, Beth Rifkin specializes in business, food, cooking, family, lifestyle and health issues. Her work has appeared in numerous on and offline publications. Beth earned a Bachelor of Business Administration from Temple University.