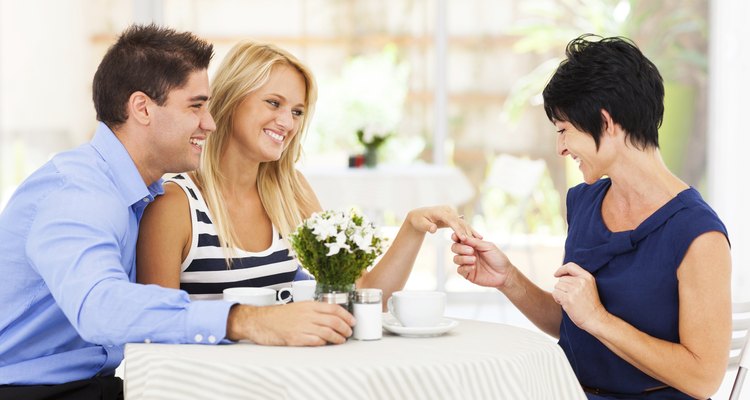 michaeljung/iStock/Getty Images
When a couple gets engaged, among the first people to hear the happy news are the couple's parents. Later, when the couple begins to plan their engagement party, the parents often offer their congratulations with a gift. Although presents aren't always the norm for an engagement party, the parents can give something practical or sentimental, or might choose to host the engagement party themselves as a form of congratulations.
Gift-Giving Etiquette
A couple that gets engaged shouldn't expect the gifts to come flooding in. Although many people do present the couple with an inexpensive gift, many well-wishers choose to save their gift until the actual wedding. People close to the engaged couple, including the parents, often present a gift to express their best wishes. It's acceptable for the parents of the soon-to-be bride or groom to give the couple a gift soon after learning of the engagement or during the eventual engagement party.
Sentimental Gift Ideas
Many parents choose to present the newly engaged couple with a sentimental gift that has a family connection. For example, a mother could give her daughter a piece of jewelry, such as a necklace or pair of earrings, that were presented to her by her own mother upon getting engaged or married. A father might give his son a watch that's been handed down through the family, a ring with the family coat of arms or a piece of jewelry such as a tie pin or cuff links.
Planning and Practical Gifts
The parents of the engaged couple can opt for a gift that helps the couple plan their wedding or a gift the couple can use in their home. For example, the parents may buy the couple a wedding-organizing book or donate their time by taking the couple around to visit prospective reception halls and caterers. If the parents wish to buy the couple something useful, they can opt for a household appliance, such as a new toaster oven, barbecue or even a washer and dryer set.
Hosting the Party
If the engaged couple plans to have a party to celebrate their happy news with family and friends, it's often customary for the parents of the bride to host the affair. In this case, the hosting of the party serves as the gift itself, given that the parents can spend considerable money on food and decorations. The parents of the groom can host the party if the bride's parents decline, or contribute to the bride's parents' party by donating wine and beer or splitting the cost down the middle for the whole event.
References
Writer Bio
Toronto-based journalist William McCoy has been writing since 1997, specializing in topics such as sports, nutrition and health. He serves as the Studio's sports and recreation section expert. McCoy is a journalism graduate of Ryerson University.
Photo Credits
michaeljung/iStock/Getty Images