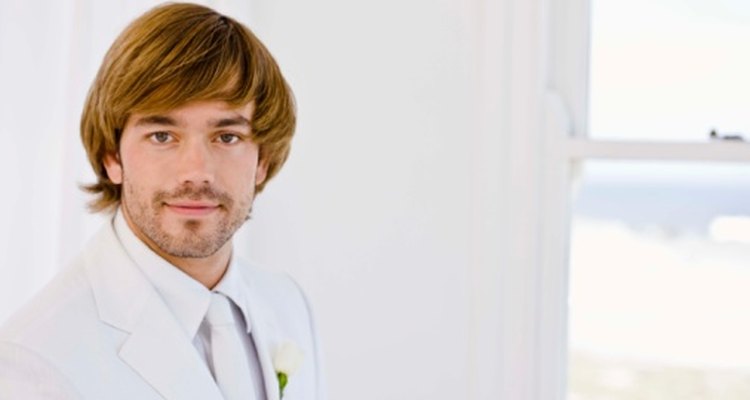 Jupiterimages/Polka Dot/Getty Images
Although a second-marriage celebration was usually a small and intimate affair in the past, the tradition has changed, and some couples now throw wedding celebrations for a second marriage that are as lavish as the first marriage. The parents of the groom still handle all of the responsibilities they may have had during a first wedding celebration. The groom's parents should ask the groom about specific tasks he may want accomplished before or during the wedding.
Rehearsal Dinner Responsibilities
If a couple hold a wedding rehearsal, a dinner usually follows. Traditionally, the cost of the rehearsal dinner has been the responsibility of the groom's parents. Everyone in the wedding party, the bride and groom, their parents, the officiant and the officiant's spouse are usually invited to the rehearsal dinner. If the rehearsal dinner is to be formal and out-of-town guests are going to be included, invitations should be sent out prior to the dinner. For an informal event, guests can be informed about the dinner before or immediately after the rehearsal.
Responsibilities at the Wedding and Reception
The couple's parents generally pay for some of the cost of the wedding. They are also expected to attend and speak to guests during the wedding ceremony and reception.The parents of the groom may be included in the reception line immediately following the wedding ceremony. Parents of the couple are usually seated together during the wedding reception. When the dancing begins, the groom's parents usually dance with the bride sometime during the night.
Responsibilities Before the Wedding
Provide a list of names and addresses of possible guests to the bride and groom when they are sending out invitations. The groom's parents may also pay for other expenses related to the wedding, such as engagement or wedding rings or fees for a wedding officiant. If you are invited to parties related to the wedding, such as a bachelor or bachelorette party or an engagement party, you are expected to attend.
Celebrations and Gifts to Honor the Couple
Although they may have contributed financially to the wedding, the parents of the groom are also expected to give the couple a gift. The gift should fit your budget and may range from giving your son and daughter-in-law a quilt you created to paying for a honeymoon trip. After the bride's family has thrown an engagement party, the groom's family can throw another one if they choose. An engagement party could be informal or formal.
References
Writer Bio
Candice Coleman worked in the public school system as a middle school and high school substitute teacher. In addition to teaching, she is also a tutor for high school and college students.
Photo Credits
Jupiterimages/Polka Dot/Getty Images