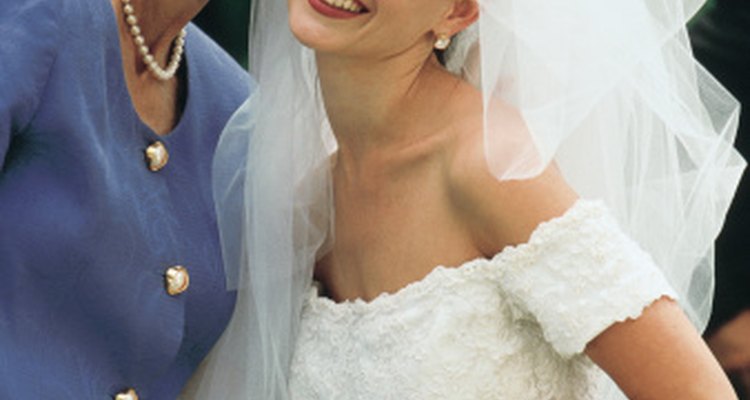 Comstock/Comstock/Getty Images
Before the bride and bridesmaids make their entrance, the mothers of the bride and groom take the spotlight for a few moments. In their own processional, the mothers are led down the aisle. The bride's mother follows the groom's mother. In this way, their role in the wedding is clearly showcased for all the wedding guests to see.
Seating of the Grandmothers
In accordance with wedding etiquette, the grandmothers are seated about five minutes before the ceremony is due to begin. An usher leads them down the aisle to the first row of seats with the grandmother of the bride going first. They sit in the third seat from the aisle, leaving room for their husbands in the seats furthest from the aisle and two seats for the parents of the bride or groom nearest to the aisle. Their husbands then follow them down the aisle and take their respective places.
Seating of the Groom's Mother
The groom's mother walks down the aisle before the mother of the bride, and she may make her way with an escorting usher or her husband. If an usher escorts her, her husband follows behind. She sits in the seat closest to the aisle on the groom's side of the wedding venue while her husband sits right next to her.
Stepmother Etiquette
Including stepmothers in the wedding processional is an optional practice and depends entirely on your relationship with your stepmother. If you do decide to include her in the processional, she would be escorted down the aisle by an usher and seated in the row behind the bride's parents. However, the place of honor is reserved for the last person down the aisle before the bridal party procession begins. Therefore, the bride's stepmother generally follows the groom's mother down the aisle while the mother of the bride takes her place last.
Seating of the Bride's Mother
The mother of the bride holds the place of honor in the pre-bridal party processional. Therefore, she processes down the aisle last to signify to the guests that the ceremony is about to begin. If the bride's father is walking his daughter down the aisle, the mother of the bride is escorted to her seat by an usher. If not, the bride's father may escort her himself. The bride's mother sits in the seat closest to the aisle while the bride's father sits next to her.
References
Writer Bio
Andrea Hamilton has enjoyed being a writer since 1996. She has been published as a poet in "Fine Lines Magazine." Hamilton holds a Bachelor of Arts in literature from Iowa State University and is pursuing a Master of Arts in creative writing from London South Bank University.
Photo Credits
Comstock/Comstock/Getty Images