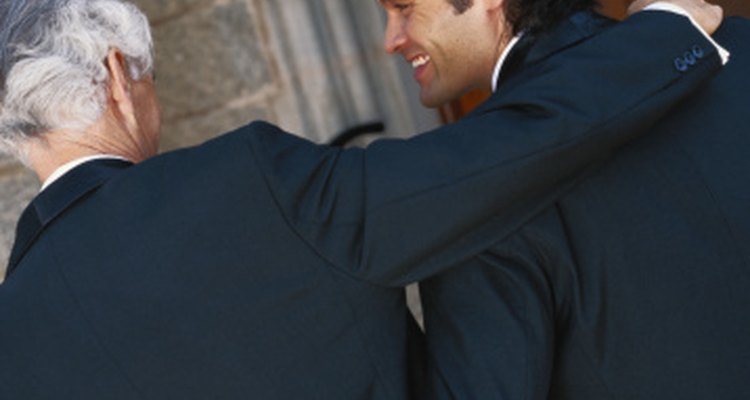 Stockbyte/Stockbyte/Getty Images
It is tradition that the father of the bride will walk his daughter down the aisle, give her away, and dance with her at the reception. However, the responsibilities of the father of the groom are not as well known. Although they may not be known, they do exist. There is proper wedding attire and etiquette to consider as the wedding day approaches.
Fomal Wedding Attire
The father of the groom is not required to wear a tux to the wedding if the groom and groomsmen are. Instead, he can wear a black suit with black dress shoes and socks. Select a tie in one of the wedding colors. The tie should also match his wife's dress. However, if he will be a part of the wedding party, he should wear what the other groomsmen are wearing. He can have a different color tie if the groom would like to distinguish him from the rest of the wedding party.
Casual Wedding Attire
If the wedding will take place in the afternoon or at a casual location, the father of the groom can wear a suit. However, he can take the suit jacket off if the groom or groomsmen will not be wearing jackets. He should wear a tie in one of the wedding colors or that matches his wife's outfit. The groom's father should wear the same outfit that the groom and groomsmen wear if he is in the ceremony.
Before the Wedding Day Etiquette
The father of the groom should give the couple a list of people he would like to be considered for the guest list. The list should be given as a suggestion. The father of the groom should not force the couple to invite people. He can also host and pay for the engagement party and wedding rehearsal dinner. He should make an effort to meet the bride's family. The meeting should be casual, but should take place before the big day.
Wedding Day Etiquette
The father of the groom traditionally does not have a lot of responsibilities on the big day. When the parents are being seated, the father of the groom can walk behind his wife as she is escorted by an usher. If there will not be ushers at the ceremony, the father can escort his wife down the aisle. At the reception the father of the groom can give a toast to welcome his new daughter-in-law to the family. Also, he can give a speech at the reception to welcome her family into theirs. Before guests are served dinner, he can welcome and thank them for being a part of the occasion.
References
Writer Bio
Meredith Burgio began writing professionally in 2010. She has written for "VOX" magazine, "RELEVANT Magazine" and "Jefferson City Magazine." Burgio has a Bachelor of Journalism from the University of Missouri-Columbia.
Photo Credits
Stockbyte/Stockbyte/Getty Images