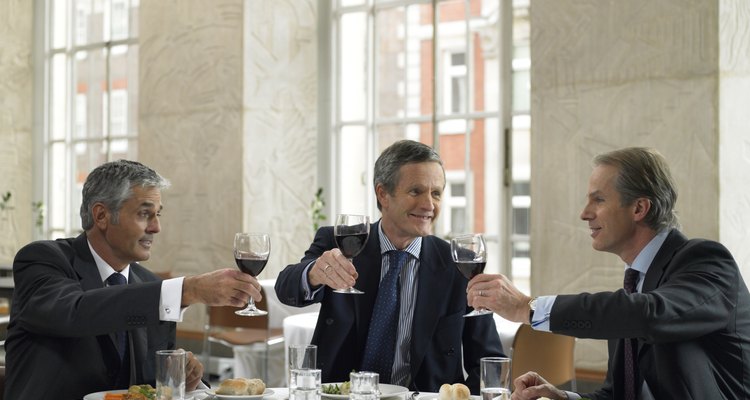 Michael Blann/Photodisc/Getty Images
Traditionally, the groom's parents hosted the rehearsal dinner. Today, rehearsal dinners can be hosted by either set of parents, both sets of parents, or the bride and groom. Likewise, the groom's father traditionally gave the first toast of the rehearsal dinner. Not so anymore. Figuring out the duties for a groom's father at the rehearsal dinner comes down to understanding the purpose of the event and the comfort level of the father in question.
Purpose of the Event
Rehearsal dinners give the bride and groom's family and close friends an opportunity to get to know each other and to relax with one another. While everyone present will also be at the reception, the rehearsal dinner is less formal and more intimate so the families can mingle without the noise, stress and crowd that will be associated with the main event. Consequently, part of the groom's father's duties is to participate in that mingling. If he is the host, he should plan on making introductions and on ensuring all of the guests feel comfortable. Even if he is not the host at the rehearsal dinner, the groom's father should interact with the bride's family and friends to pave the way for happy family relationships down the road.
Toasts and Speeches
Another traditional part of rehearsal dinners are the toasts. Customarily, the groom's father would make the first toast of the evening, usually when the main course was served. Today, the groom's father has more options. If he is not hosting the rehearsal dinner, he should allow whoever is the host to make a toast or speech first. Whenever his turn does come up, he can make a brief toast, give a formal or informal speech, or even show a video or slideshow about the groom or the couple. If the groom's father does not want to speak at the event, he should also have the option of not being put on the spot..
References
Writer Bio
Amy Jorgensen has ghostwritten more than 100 articles and books on raising and training animals. She is also an amateur dog trainer. She has also written more than 200 blog posts, articles, and ebooks on wedding and party planning on behalf of professionals in the field.
Photo Credits
Michael Blann/Photodisc/Getty Images