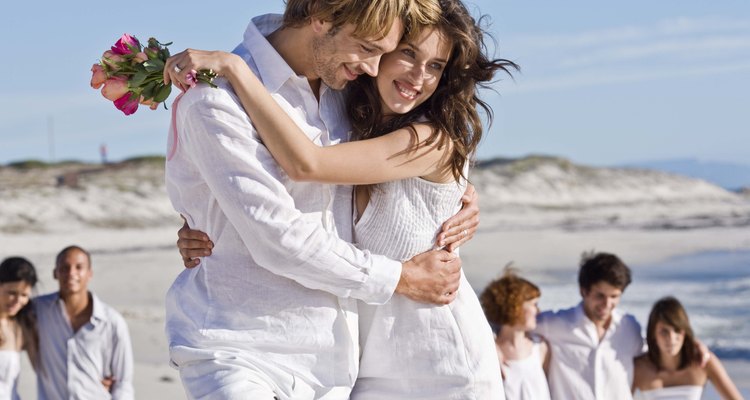 Jupiterimages/Polka Dot/Getty Images
A wedding ceremony makes for a joyous occasion. Planning for a wedding ceremony, however, can be a nightmare -- especially for the families of the bride and groom, who must balance responsibilities, bills and fashions without offending the new family members across the aisle. The mother of the groom should celebrate the marriage of her son whatever way she sees fit. However, what she wears is traditionally dictated by certain customs. Even for a casual beach wedding, the mother of the groom must talk to the mother of the bride about what to wear, and then dress and accessorize appropriately.
Communication Is Key
The mother of the groom, regardless of the wedding style and location, must coordinate with the mother of the bride when it comes to dress. The mother of he bride selects her dress and then notifies the mother of the groom, typically over the phone. This gives the mother of the groom some boundaries regarding color and style. Also, she should reach out to her son's fiancee and find out what the bridesmaid's dresses will look like to avoid clashing colors or dressing in too similar a style.
Dresses
After coordinating with the bride's family the mother of the groom is free to select her dress. A casual beach wedding means that it does not have to be formal evening wear, but a tank top and shorts are a no-no. A simple sun dress, typically light in color and material, can work just fine. Pants and a nice nice blouse look appropriate at a casual beach wedding. Age appropriateness is the key to outfit selection. The mother of the groom does not need to look matronly, but she is a mother, and her dress should reflect this. Remember, the mother of the groom will be photographed a lot, so a comfortable, flattering outfit works best.
Shoes
Among the trickiest outfit decisions for a casual beach wedding is footwear. Again, communication can help the mother of the groom dress appropriately. She should talk to her son and find out if people are planning to go barefoot, which is common for many beach weddings. If the wedding is on the beach but the reception is elsewhere, beach-appropriate shoes, such as sandals or wedges, work well. Heels can be a disaster when walking on sand and should be avoided.
Accesories
The mother of the groom wants to look elegant on her son's wedding day, but a casual beach wedding means she could overdo it on the glitz and glamor. Hair and makeup should have a natural, everyday look. Jewelry does not need to be casual. Matching diamond earrings and pendants look great and can be preserved as family heirlooms. The mother of the groom should also consider wearing a hat to the wedding. Hats can range from formal to informal and look entirely appropriate on a sunny, windy beach.
References
Writer Bio
Mo Mozuch has been writing professionally since 2005, when he began graduate school at Duquesne University. As a writer and editor he has won several awards, including the Columbia Scholastic Press Award for On-Going News Coverage in 2006. He has worked for College Prowler and been featured on Esquire.com
Photo Credits
Jupiterimages/Polka Dot/Getty Images