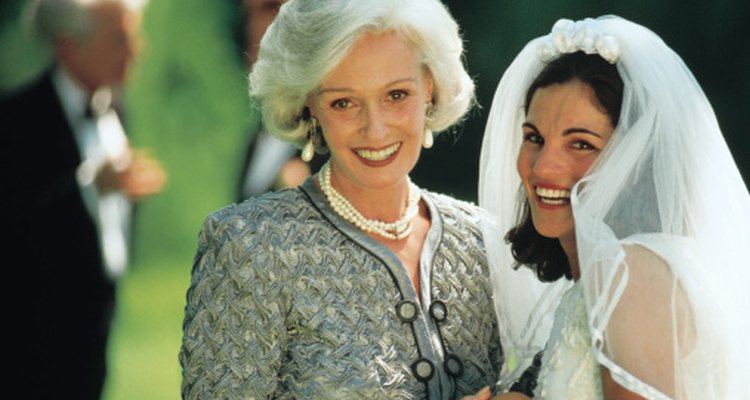 Comstock/Comstock/Getty Images
Traditional mother-of-the-bride dresses shouldn't be white, and some brides may even prefer to follow the etiquette "rule" that all the dresses must coordinate in some way, and want their mother's dress to match the bridesmaids' attire. However, there are several alternatives to traditional wear for the bride's mother that will help her display her unique style at one of the most important events of her life.
Sundresses
If the wedding takes place outside or has a spring or summer theme, it is acceptable for the mother of the bride to wear a tasteful sundress (with the bride's consent, of course). A long sundress with a floral pattern can be elegant and appropriate; a thin shawl that matches the colors in the dress is fitting for an evening wedding. While a sundress is not traditional wedding wear for the bride's mother, you can fit right in with the color scheme with this outfit or indirectly convey your daughter's bright and cheery nature.
Pants Suits
A pants suit is a feasible choice for a mother of the bride who doesn't particularly like dressing up, or for a woman who wants to wear something unconventional to her daughter's wedding. A suit in a color other than black or navy blue will keep the outfit from looking too business-like. Tailored slacks and a blazer in a color that matches the wedding decor or the bridesmaids' dresses like peach or lavender is appealing but not too overpowering. Or, you can make the pants suit a little fancier by wearing a sequined or lace tank top with dark-colored slacks and a matching jacket.
Colors
The Knot website asserts that it's generally not a good idea to wear a striking color like red to your daughter's wedding. Unless, of course, the bride is OK with it. Even though it's not in keeping with traditional etiquette, the mother of the bride can wear white if the style of her dress is nothing like the bride's, and the bride is fine with the idea. Black, which is traditionally the color of mourning and not recommended for weddings, can appear very classic and tailored for mothers of the bride, especially when accented with a metallic shade like gold or silver. Pastels are also safe color choices for mother-of-the-bride outfits.
Time of Day
Even though you may wear a less-than-traditional outfit to your daughter's nuptials, make sure your attire matches the time of day the ceremony takes place. A long satin or velvet dress is appropriate for an evening event, while flowy slacks and a button-down top embellished with rhinestones works well for a semi-formal event. Even if you're not completely comfortable with dressing up, it's best to find attire that the bride will approve of that still fits your comfort level, so you won't stick out at the wedding.
References
Writer Bio
Tamiya King has been writing for over a decade, particularly in the areas of poetry and short stories. She also has extensive experience writing SEO and alternative health articles, and has written published interviews and other pieces for the "Atlanta Tribune" and Jolt Marketing. She possesses a Bachelor of Arts in English and is currently pursuing higher education to become a creative writing professor.
Photo Credits
Comstock/Comstock/Getty Images