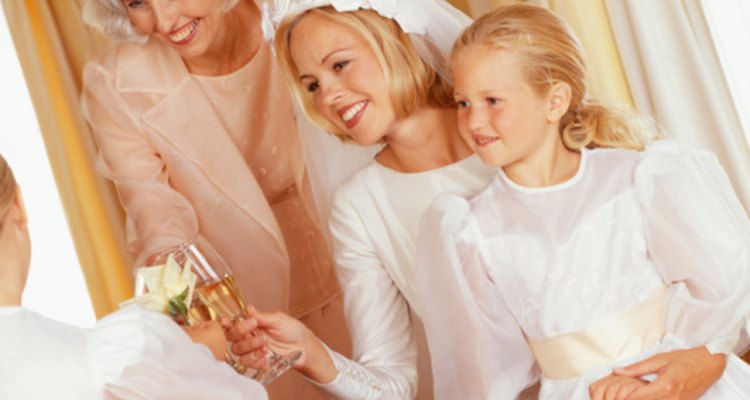 Buccina Studios/Valueline/Getty Images
When preparing for the wedding day, many of the key players have to wear specific looks. However, there is no single type of attire worn by the bride's aunt. Therefore, she has the freedom to select her attire within the premises of the dress code. By asking yourself what the bride would wear if she was a guest at the same type of wedding, you're sure to find an appropriate dress that fits the day perfectly.
Color
If the bride has specified that she wants her guests to don a certain color, respect her wishes. However, if nothing of the sort is mentioned, select your attire as you see fit. Some hues to avoid include white and ivory. Black, too, should be avoided unless the wedding reception is a formal or semi-formal affair. If you wish to coordinate with the wedding's theme colors, look for a dress with hints of the main color, as wearing the same shade as the bridesmaids is not recommended.
Casual Dress
Casual weddings, such as outdoor and beach-side affairs, necessitate very little in the way of formal dress. The aunt of the bride at a formal wedding may wear a sundress or even a skirt and top. Though jeans are not acceptable, dressy trousers are also permissible. If, however, the invitation requests that guests wear "Dressy Casual," select a cocktail dress or a dressy skirt and top.
Semi-Formal Attire
Short or knee-length dresses are the most appropriate for a semi-formal wedding, as anything longer starts to look too formal. However, it's important that the selected dress not be too revealing. For instance, an appropriate dress could either be short or strapless, not both. Look for formal shoes and sparkly accessories to make your outfit shine. Lastly, wear dark colors such as burgundy, gray and black for an evening reception.
Formal Wedding Attire
For a formal wedding and reception, select a long dress, such as a tea-length or floor-length gown. Ensure that you meet the requirements of the venue's formality level, whether it be white or black tie. Beaded dresses and sequined overlays are options for a formal affair, as glamor is not optional at such events. However, the dress you select should never be fancier than the bride's, as it is not polite to draw any attention from her.
References
Writer Bio
Andrea Hamilton has enjoyed being a writer since 1996. She has been published as a poet in "Fine Lines Magazine." Hamilton holds a Bachelor of Arts in literature from Iowa State University and is pursuing a Master of Arts in creative writing from London South Bank University.
Photo Credits
Buccina Studios/Valueline/Getty Images