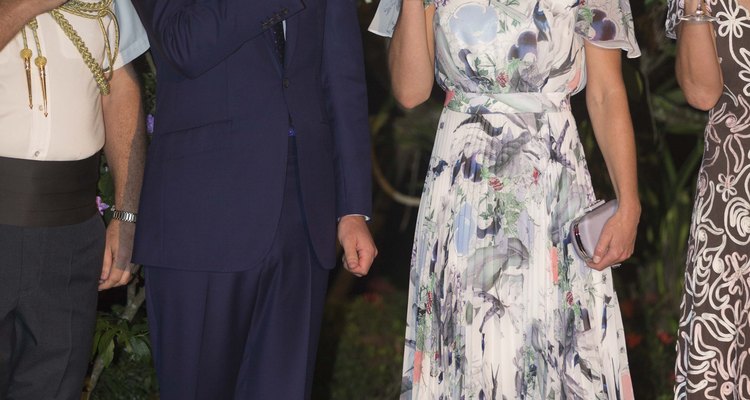 Pool/Getty Images Entertainment/Getty Images
England's royal family made the formal garden party a household term, but in America, there are a few variations on the theme. Any social event outdoors -- from a wedding to a graduation party to a festive gathering of friends -- can constitute a garden party, particularly during temperate spring months. As these parties are often lush, floral and have the beauty of nature as an underlying theme, your dress should reflect this influence, while also bearing in mind the weather and the occasion.
Dress Code
Check the invitation for any dress code references. Some will specifically state that the event is dressy, casual or even centered on a particular theme. If the type of dress is not overtly communicated, consider factors like weather, time of day and type of gathering. A wedding naturally will be more formal than a Memorial Day party, and an outdoor baby shower or brunch would fall somewhere in between. If all else fails, ask the host about what type of dress is expected.
Dresses & Skirts
Garden parties evoke the freshness of springtime and an air of femininity. Embrace this feeling in your choice of dress by choosing soft and flowing material like chiffon, or light and airy fabrics such as cotton-rayon blends or linen. Pastels and brights both work equally well, as do florals and other whimsical prints. Choose an A-line party dress in a citrus color like lemon yellow or tangerine for a more formal event, or go soft and romantic with a long floral skirt and a cream, pink or lavender sheer blouse if the party is a bit more relaxed.
Shorts & Jackets
A warm spring or summer day and a more casual activity allow flexibility in styling. For such events, reach for a dressy pair of suit shorts in a mid-thigh length and an elegant blouse or brightly colored blazer. For example, a neutral-toned short -- think ivory, beige or black -- looks sharp when paired with a punchy coral or bright pink blazer. Or, for a softer appearance, try a silky peasant blouse in a tiny floral print or a lace-detailed pastel blouse. Finish the look with neutral flats and a small cross-body bag or envelope clutch.
Shoes & Accessories
If you'd prefer to not shop for a whole new outfit for your upcoming garden party, make something in your closet work by changing shoes and accessories. Adding a string of pearls to a basic peach or navy dress adds elegance, while a plain white or ivory dress gets a garden-party makeover by adding a brightly colored statement necklace or charm bracelet that incorporates colors like emerald and turquoise. Above all else, pay attention to the footwear you choose. The outdoor nature of a garden party dictates you don't wear thin stiletto heels that can easily sink into the grass or soil. Instead, try a cute pair of embellished ballet flats or neutral wedges to keep your look firmly planted above ground.
References
Writer Bio
Stacey Kole was managing editor of the International fashion and beauty publication Savvy where she penned stories on all things beauty and style, while writing cover stories on such celebrities as Victoria Hudgens and Julianne Hough. She continues to write for a variety of online fashion, beauty and health publications.
Photo Credits
Pool/Getty Images Entertainment/Getty Images