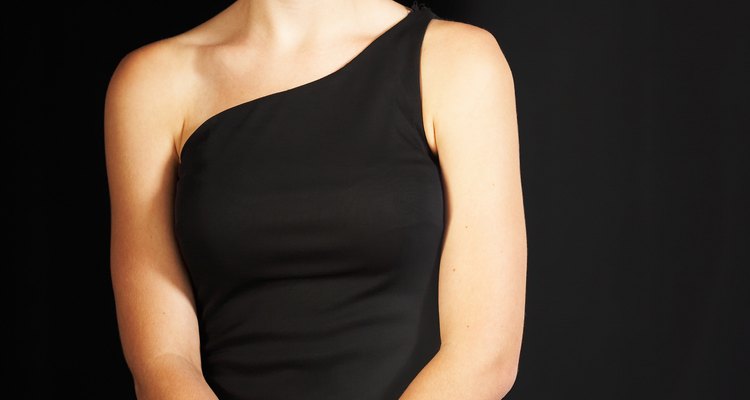 Jupiterimages/Photos.com/Getty Images
Whether you're opening an invite to your former college roommate's wedding, a reunion or a charity event, the words "elegant dress" may seem ambiguous and confusing. While black tie or casual attire sound comparatively easy to understand, "elegant" is not as straightforward. Instead of showing up in the wrong attire, know the basics of elegant dress before choosing your party outfit.
Dress Continuum
Elegant dress isn't as elaborate as black tie, which requires a tux or gown, but it is well above casual. So, that ball gown or sequined number isn't necessary, but wearing a jean skirt and blouse is still unacceptable. Think of elegant dress as falling below formal, but above what you would wear to work or a family dinner out.
Seasonal Considerations
Take the seasons into consideration before choosing your event attire. For example, a shorter-length cotton cocktail dress works well for a moonlit summer wedding, but it doesn't work for a winter event. Elegant dress also extends into outerwear, so pair your elegant silk pantsuit or cocktail party dress with a wrap, a formal wool coat or a dressed-up trench.
Time of Day
Afternoon and nighttime events require different attire, so keep the time of day in mind. Elegant dress to afternoon tea requires different colors and styles than an evening college reunion. According to "Emily Post," elegant, or semi-formal, dress varies by the time of day -- daytime wear is a slightly more casual style than evening attire. While you can get away with wearing a simple cocktail dress at night, it won't do for a daytime event.
What to Avoid
While a full sequined gown is more than an elegant invite calls for, you can still wear an upscale backless or strapless dress. Basic cocktail or shorter-length dresses without formal embellishments are completely acceptable for an elegant-style party; but avoid anything with a fancy design, heavy beading or sparkly material. You should also avoid provocative styles such as a mini-dress or deep V neckline, as well as casual shoes such as sandals or loafers.
References
Writer Bio
Based in Pittsburgh, Erica Loop has been writing education, child development and parenting articles since 2009. Her articles have appeared in "Pittsburgh Parent Magazine" and the website PBS Parents. She has a Master of Science in applied developmental psychology from the University of Pittsburgh's School of Education.
Photo Credits
Jupiterimages/Photos.com/Getty Images