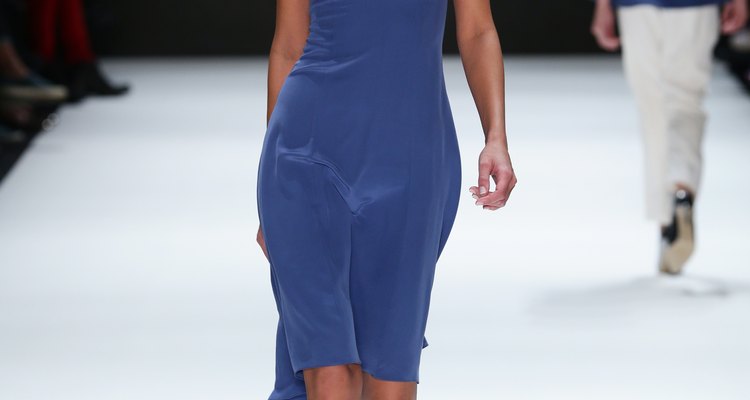 Vittorio Zunino Celotto/Getty Images Entertainment/Getty Images
Named for the rich blue shade of the precious gemstone, sapphire is not only pleasing to the eyes, but is also a very adaptable color that many can wear successfully. The trick to accessorizing a sapphire-blue dress depends on everything from the style of dress to the occasion; but with so many options available, it doesn't take much pull off a seamless, beautiful blue look.
Metallic Glam
A sapphire-blue cocktail dress is typically made of a rich fabric, such as silk, satin or chiffon, and could have sequins or other embellishments. Style this type of dress with metallic accessories -- the versatility of sapphire allows it to be paired with brushed gold, silver or gunmetal accessories. For example, a sapphire-blue silk halter dress is accented beautifully with strappy gold sandals, a gold cuff bracelet and dangling crystal and gold earrings. Carry a metallic minaudiere clutch to complete the elegant look. If your dress is sequined or beaded, stick with strappy heels or pointy-toe pumps in a metallic hue like silver. Wear simple button earrings -- think a matching metallic or sapphire-colored stone -- and finish the ensemble with a delicate silver bracelet.
Basic Black
Sapphire is striking when offset by black. Whether your dress is a sheath, wrap-style or A-line cut, black accessories instantly polish the look. Make your dress work-appropriate by adding opaque black hosiery and black pumps or kitten heels with simple silver jewelry. Top with a black blazer for even more professionalism. For a dinner date, pair a fitted, sapphire-blue scoop-neck dress with black slingback pumps and a matching black envelope clutch. Infuse glamour with a black enamel statement necklace and cocktail ring.
Color Coded
Take a light-hearted approach to accessorizing by incorporating color into your sapphire-blue look. A simple strapless piece is energized with the addition of a turquoise statement necklace, emerald chandelier earrings, a fuchsia clutch or an armful of colorful bangles. Orange and blue are complementary colors, so work in coral jewelry for extra visual impact. Balance the bright, statement-making hues with neutrals -- think strappy nude heels or pumps and basic gold hoops.
Casual Approach
While evening dresses pair well with dressy metallics and statement-making jewelry, a casual sapphire sundress benefits from less formal accessories. Instead of sparkles and gems, add a colorful printed scarf to a simple spaghetti-strap dress. Or top a basic cotton frock with a cardigan in another shade of blue -- think cornflower, aqua or navy -- for a soft and pretty approach. Slip into nude, black or taupe ballet flats and add a matching skinny belt; carry an oversize neutral leather satchel to finish the ensemble.
References
Writer Bio
Stacey Kole was managing editor of the International fashion and beauty publication Savvy where she penned stories on all things beauty and style, while writing cover stories on such celebrities as Victoria Hudgens and Julianne Hough. She continues to write for a variety of online fashion, beauty and health publications.
Photo Credits
Vittorio Zunino Celotto/Getty Images Entertainment/Getty Images