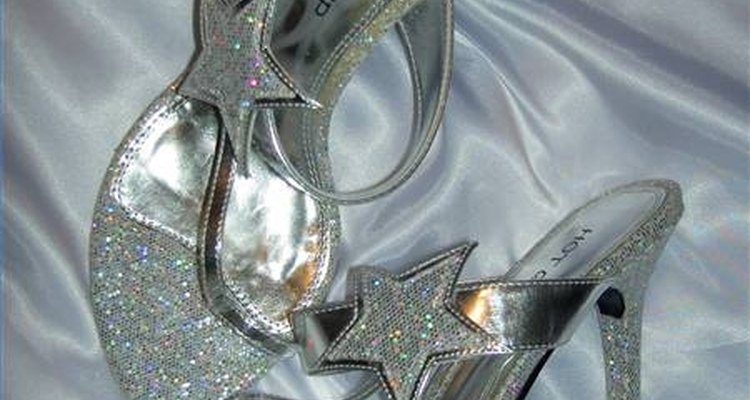 If you are getting ready for a big night on the town, why not trade in your little black dress for an unconventional silver one? A silver dress, when accessorized correctly, can make both a bold and elegant fashion statement. Enhance your metallic dress by adding accessories in complimentary colors; black isn't the only shade that looks good with silver. Think outside of the fashion box and have fun with your wardrobe by adding the pop of silver to your evening wear.
Add black accessories and shoes for a touch of elegance; break out of a traditional fashion rut by mixing black and silver rather than black and white. Compliment a sparkly dress with strappy black heels and a cute black clutch. Wear elegant onyx earrings for extra sophistication.
Liven up your silver dress by wearing blue accessories. Slip into midnight blue shoes and wear a sapphire necklace or cocktail ring; blue enhances silver by picking up on its icy tones.
Enhance your silver dress by mixing it with jewel-tone accessories. Silver is a neutral color, so brighten up your dress with deep jewel tones such as amethyst, emerald and ruby. Wear rich purple heels with amethyst earrings, or slip on lively green sandals and a chunky emerald necklace.
Go all out by adding metallic accessories to your look. Slide into sparkly silver heels, and wear super chic silver and diamond drop earrings. Carry a jewel-tone clutch for just a hint of color.
Downplay your accessories and let your silver dress shine by itself. Wear clear lucite heels for legs that appear to go on for miles, and pull your hair back into an elegant up-do. Wear simple diamond stud earrings and let your dress steal the show.
Writer Bio
Elizabeth Arnold has written for a wide variety of publications and websites. Her experience includes writing travel features for "Recommend" magazine and packaging marketing copy for both Metro-Goldwyn-Mayer and Warner Bros. consumer products. Recently, Arnold was a staff writer for "Special Events" magazine. Arnold studied English at the University of Wisconsin-Milwaukee.