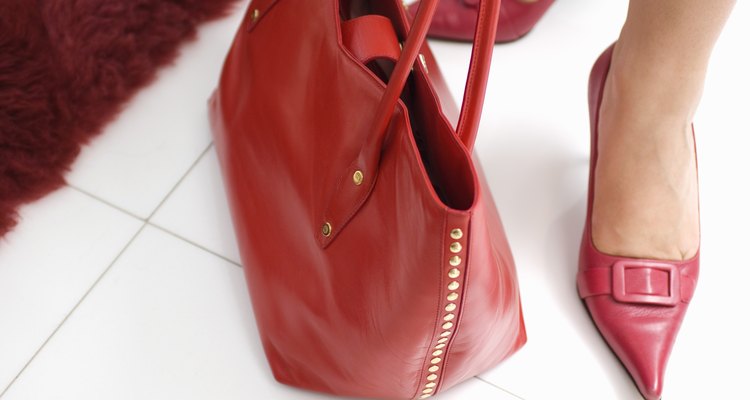 Jupiterimages/Creatas/Getty Images
As neutrals, black and white are classic wardrobe colors that work with virtually any other shades in your closet. But pairing the two can give you a particularly sharp, modern look that's sure to turn heads. Knowing how to accessorize a black-and-white outfit, though, can be tricky. You can actually take your outfit in quite a few directions depending on the accessories that you choose, so you can look as sleek or bold as you want.
Go All Out
If you want to keep your look sleek and modern, choose other black-and-white pieces to pair with your outfit. Pair a white button blouse and black pencil skirt with a white patent-leather belt, black clutch and black heels for a polished, sexy look that works well for the office. For a more casual look, wear a black V-neck tee shirt and white shorts with white gladiator sandals or ballet flats and a black fedora. If you like a modern look but want a little more variety in your outfit, pair your black-and-white outfit with gray or tan accessories to create an entirely neutral color palette.
Play With Color
Using accessories to add bright color to a black-and-white outfit is an ideal way to spice it up -- and because black and white are neutral shades, you can incorporate any color that you like in your look. If you're wearing a black-and-white print dress, pair it with vibrant cobalt heels or a magenta purse. At the office, add interest to a white button-down and black trousers with a red leather belt. But you don't necessarily have to pair bright colors with your outfit. Pastel accessories in shades like mint, aqua, pink and butter all can work well with a black-and-white outfit too. Deep, rich colors like jewel tones also are fun possibilities. Try pairing a black-and-white dress with ruby-colored pumps or an emerald-green beaded necklace.
Add a Pattern
If your outfit consists of solid black and white pieces, add dimension to it by incorporating patterned accessories. You can keep things simple by choosing black-and-white prints. For example, pair a white sweater and black trousers with a funky black-and-white zebra-print scarf for added fun. However, if you want a bolder look, opt for colorful patterned accessories. You can wear a white camisole and black skirt with a pair of pink, green, turquoise and yellow floral pumps for an evening out or a pair of pink-and-green striped flats for a casual look.
Mix Metals
Mixing gold and silver jewelry and accessories used to be considered a fashion faux pas, but it's become a striking way to personalize your outfit. The ideal time to experiment with the look is when you're wearing black-and-white clothing since the neutral shades will allow both the cool silver and warm gold tones to really pop. To pull off the look, try pairing a flirty black-and-white dress with a handful of thin gold-and-silver bangles, or layer a thin silver chain under a gold pendant to emphasize a black-and-white top.
References
Writer Bio
Based in New York City, Jennifer Blair has been covering all things home and garden since 2001. Her writing has appeared on BobVila.com, World Lifestyle, and House Logic. Blair holds a Bachelor of Arts in Writing Seminars from the Johns Hopkins University in Baltimore, Maryland.
Photo Credits
Jupiterimages/Creatas/Getty Images