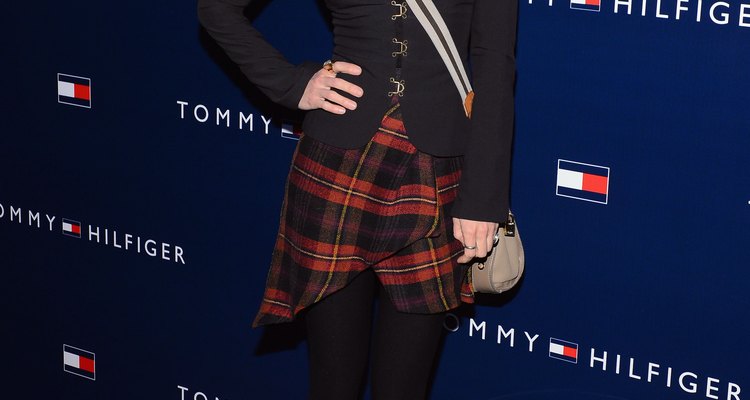 Mark Davis/Getty Images Entertainment/Getty Images
A plaid skirt can definitely have a school girl feel, but if you choose a style that features red and black tartan, you can create a sophisticated, modern look that works everywhere from the office to an evening out. That's because a red and black plaid skirt is versatile -- you probably have several pieces in your closet already that can work with the striking pattern. Just by changing up the top and accessories that you pair with your skirt, you can create a variety of looks.
Keep It Simple
When you want a chic, understated look, your best option is to draw inspiration from the red and black plaid in your skirt. Stick to red and black pieces for the rest of your outfit so the color palette is limited to two colors. Wear your plaid skirt with a black button-down blouse or turtleneck to look stylish at the office. A red V-neck sweater or tunic top is a better option if you want to stand out a little more. Pair either ensemble with black pumps to look work appropriate. For a casual look, a simple T-shirt or tank top in red or black can work well with your plaid skirt. Add ballet flats or flat boots and tights for a polished weekend outfit.
Go Classic
If you want a classic look for your red and black plaid skirt, pair it with a white top. When paired with a light neutral shirt, the plaid pattern becomes the focal point of your outfit. At the office, wear a crisp white button-down blouse with your skirt – you can tuck it in and add a black patent leather belt and heels to give the outfit a little more personality. For a more casual look, opt for a simple white long-sleeve T-shirt. If a white top seems too stark with the red and black skirt, choose an off-white shirt in cream or ivory instead.
Mix Patterns
While plaid may seem like a conservative pattern, your red and black skirt can be the centerpiece of a bold, modern look if you pair it with other patterned items. Since mixed patterns can be a tricky style to pull off, play it safe by choosing a patterned top that also features red and black. Floral patterns work well with plaid, so try a red and black flower-print blouse with your skirt. Pair the combination with red pumps if you really want to turn heads. For a funky look, opt for a red and black animal-print sweater with the skirt and chunky black heels to give your outfit plenty of contemporary flair.
Get Flirty
A red and black skirt can sometimes look a little stuffy and conservative. If you want to wear it out on the town or to a date, you may want to up its sex appeal. Pair it with a flirty black camisole or corset style top with lace details and stiletto heels. If it's a chilly night, you can add a red or black tailored blazer or leather jacket over the top to keep warm. An off-the-shoulder top in black or red can also give your skirt a sultry look for the evening. Pair it with knee-high black boots and bold chandelier earrings and you're ready for an evening out.
References
Writer Bio
Based in New York City, Jennifer Blair has been covering all things home and garden since 2001. Her writing has appeared on BobVila.com, World Lifestyle, and House Logic. Blair holds a Bachelor of Arts in Writing Seminars from the Johns Hopkins University in Baltimore, Maryland.
Photo Credits
Mark Davis/Getty Images Entertainment/Getty Images