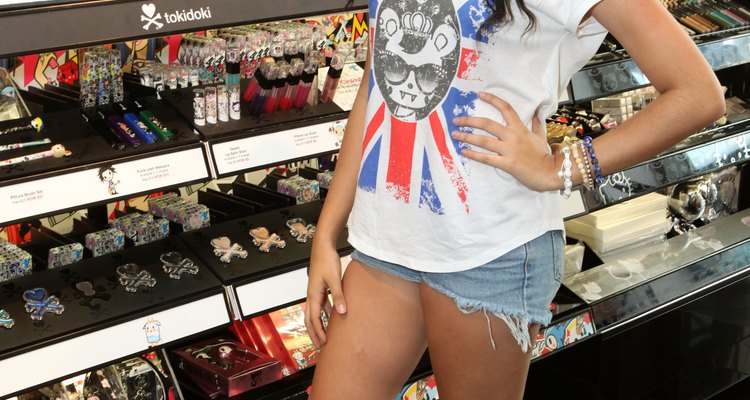 Rebecca Sapp/Getty Images Entertainment/Getty Images
Red Converse are a strong statement and a fun pop of color. They are comfortable, casual, and give your outfit a vibrant flare. However, you must be careful with what you wear with them, as you could either end up looking funky and stylish or like Bozo the clown. But don't be afraid to rock your Converse -- there are many outfits that can be styled to look appropriate in a high fashion magazine. Depending on what you match them with, you can be the cool skater chick, the bohemian hippie, the trendy girl, or just plain old you with some cool kicks.
Denim
Fashion's most versatile item, denim, is a perfect pairing with red Converse. Any shade from light to dark can complement that splash of red. Try a pair of skinny jeans with a loose grey cotton T-shirt, or dare to go denim-on-denim with high-waisted jean shorts and a cropped jean jacket. If you are more of a girly-girl, denim dresses look cute with red shoes. Denim vests with black or metal studs are also a fun, edgy match for the more rocker types.
Black and White
The basic black and white outfit is a safe go-to for styling with red Converse. Be bold with a pair of black and white striped pants or leggings. Black skinny jeans with a light white T-shirt look timeless, and can balance out the bright red statement. A satin high-waisted skirt with a tucked in tank top can look lovely for both daytime and nighttime. Pair up your red Converse with a mix between the black, white and denim for a stand-out look.
Green
There's something magical about the combination of green and red. Christmas did it, and so can you. But to avoid looking like a tree full of ornaments, opt for darker shades of green like forest or olive. Cargo jackets are comfy and stylish, and look great with earth tones. Wear the jacket over a pair of khaki shorts with a white T-shirt to give your red Converse a relaxed and natural look. A dark green romper matched with your red sneakers is playful and girly.
Red Detailing
Although fashion experts wouldn't recommend wearing an entire red outfit with red Converse, a few red details can be a great way to tie in those shoes. Try wearing T-shirts that are predominantly one base color with a design in red. Or try one of the above outfits with some red accessories like a hat, scarf or bangles. A jean dress looks cute with a skinny red belt and red earrings. Red Converse also work well with layers that allow a little red to peek through. Wear a long red tank top under a shorter gray tank top to create a cute match.
References
Resources
Writer Bio
Los Angeles-based writer Elana Kluner has been writing internationally since 2008. Her work has been published in M2Women Magazine, DANZ Quarterly, Central leader, Western Leader, The Other Duck and Spa Violet. Kluner graduated with a Bachelor's degree in creative writing from Auckland University of Technology and studied fashion design at the Fashion Institute of Design and Merchandising.
Photo Credits
Rebecca Sapp/Getty Images Entertainment/Getty Images