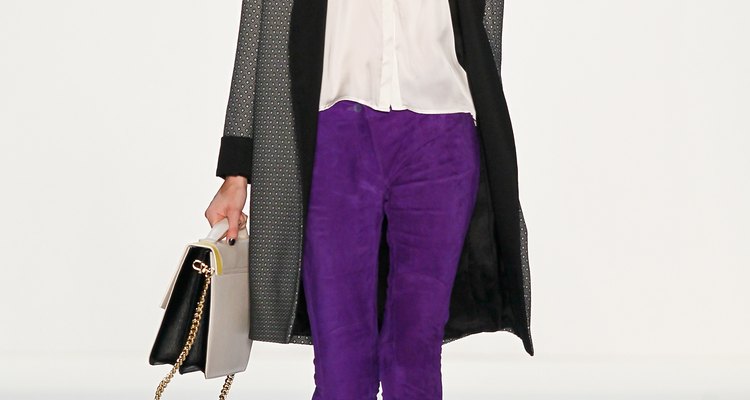 Peter Michael Dills/Getty Images Entertainment/Getty Images
The shades may range -- from lavender to indigo to eggplant -- but purple jeans are a constant on the style scene. There's a lot you can do with a pair of purple pants to create different, fashion-forward looks. Use them to bring a jolt of color to an otherwise neutral outfit, or embrace the look and go all-out with trendy colorblocking or daring prints.
Degrees of Purple
The first step in styling purple jeans is to identify your shade. Light purple jeans are best for spring and work well with light neutrals such as white, ivory and heather gray. Medium purple jeans are your all-purpose purple, having the same versatility as a dark denim in terms of what complements them. Try a medium blue chambray button-down tucked into a medium purple jean, and finish the outfit with either a black strappy heel for women or a dark utilitarian ankle boot for guys. Vivid purple such as indigo or electric hues are statement jeans and look best with more neutral tops and accessories. Dark purples such as eggplant are a deep, rich shade perfect for fall and a chic alternative to black jeans for either men or women. The beauty of this shade is you can pair it with dark or light neutrals.
Cool Colorblocking
Bright purple jeans are ideal for colorblocking. This look pairs vivid hues that are either opposite or next to each other on the color wheel with other bold colors -- embrace this look if you're a fashion renegade. Orange, green-yellows, turquoise and red are great choices for colorblocking purple pants. Wear a pair of purple slim-cut jeans with a red or fuchsia shirt. A toned-down fall version of colorblocking pairs eggplant jeans with a rust shirt or sweater and deep-brown shoes and belt. A subtle way to play with colorblocking is to wear your purple jeans with a matching purple top and add a vivid shoe. Women can try a chartreuse patent-leather pump or men can grab a pair of charcoal-gray suede lace-up shoes that have bright yellow laces and rubber soles.
Spiced-Up Neutrals
If you have a more classically understated style, a pair of purple jeans will give your wardrobe a little edge. Wear a pair of dark purple jeans with a white V-neck tee and a black blazer. Accessorize with a silver chunky watch and other classic black pieces such as a leather handbag for women or a black messenger bag for men. Cuff your jeans to show a black leather motorcycle boot, or women can try a black suede ankle bootie as the perfect complement to chic purple pants. Add a cropped gray loose-knit sweater for a sexy but casual look or a lavender button-down for a colorful yet professional vibe.
Modern-Chic
If you are looking for the freshest approach to purple jeans in womenswear try pairing waxed super-skinny dark purple jeans with a neutral leopard-print ankle boot or leopard-print blouse. Keep the look toned down by choosing one leopard piece and stick with black for your other accessories. Or, if you're extra daring, accent with a leopard-print clutch to match. Men should stick to a straight-cut denim and play with bold patterned shirts. A paisley slim-cut shirt with dark purple jeans provides just the right amount of fashion pizazz. With so many shades and variations, purple works for nearly every fashion aesthetic. Whether you're conservative with neutrals or push the envelope with prints, you just might discover that purple jeans are your new go-to staple.
References
Writer Bio
Angela Bakke is a Los Angeles-based writer and reporter with more than a decade of experience covering fashion, beauty, the arts and entertainment. She has interviewed some of the most famous people in the world and covered stories for Beyond Cinema, Hollywood.com, ReelzChannel, CNN.com and Celebs.com.
Photo Credits
Peter Michael Dills/Getty Images Entertainment/Getty Images