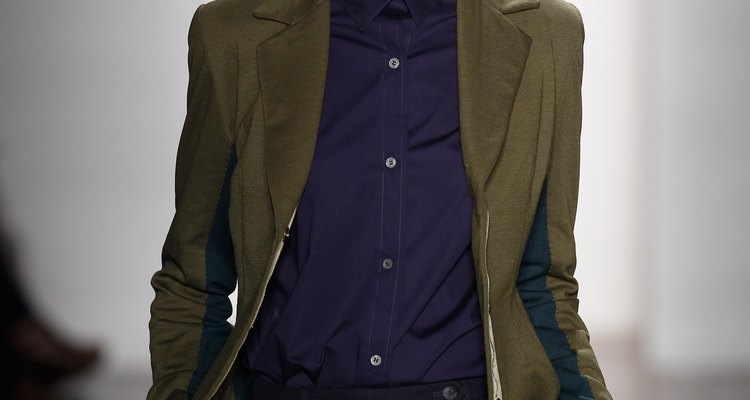 Peter Michael Dills/Getty Images Entertainment/Getty Images
It can be difficult to find clothes that complement a specific garment in your wardrobe. But building a look around a particular piece, such as a navy blue shirt, can be less of a mystery when you know where to start. Color expert Leatrice Eiseman categorizes navy blue as a "crossover" color that people are accustomed to seeing in nature in combination with many other colors, so understanding how to style this item isn't as difficult as you might think.
Fancy Pants
With the right trousers, you can wear a navy blue shirt all year, provided it is made of a suitable fabric blend such as cotton and polyester. For all seasons, blue jeans are an easy styling option for a more casual look. Choose a wash lighter than the color of your shirt - one that provides contrast. In the spring, wear ice blue pants, which are in the same color family and offer an attractive color combination. For summer, switch to white jeans or slacks, or khakis. When fall arrives, consider plaid pants with a hint of navy in the pattern. For winter's cold, corduroys in chocolate or winter white are attractive matches.
Skirt Alert
As with pants, navy shirts can be worn throughout the year with seasonally appropriate skirts ranging from A-line to pencil styles. In the fall and winter, a navy top looks great with various colors and fabrications: navy pinstripe, winter white leather, deep orange bouclé, and red wool-cashmere blend, to name a few. Moving into spring and summer, pair the top with a high-waisted skirt in petal pink or a pale gray wrap skirt for a fresh look.
Suit Up
Suits, blazers and sport coats in black, gray, brown, white and navy itself – basically every key neutral – can complement a navy shirt. Navy looks particularly chic paired with black. Plaid, checked or striped jackets with a touch of dark blue are casual alternatives to suits that still look polished. When you're making necktie or scarf choices, consider one with a subtle print to contrast with the dark navy shirt. If the shirt is textured, opt for an accessory in a solid color so that your look isn't too busy.
The Finishing Touch
If you're wearing a navy blue shirt with a navy or black suit or bottoms, your look needs tasteful touches and contrasts to prevent visual boredom. Jewelry such as cuff links, bracelets, pins or necklaces in sterling silver, platinum or white gold settings match and bring some light to the darkness. Avoid accessories that provide jarring contrast, such as a white necktie or white shoes. Wearing pieces of varying textures can keep your outfit from looking like a uniform. For women, a silver or shiny black or navy belt adds subtle and stylish contrast. For guys, a pocket square does the same.
References
Writer Bio
LaMont Jones was an award-winning fashion and beauty editor for a decade at the "Pittsburgh Post-Gazette." A five-time nominator and judge of the CFDA Awards, he covers New York Fashion Week regularly. Jones is a 2011 inductee into the Pittsburgh Fashion Hall of Fame and coaches fashion models.
Photo Credits
Peter Michael Dills/Getty Images Entertainment/Getty Images