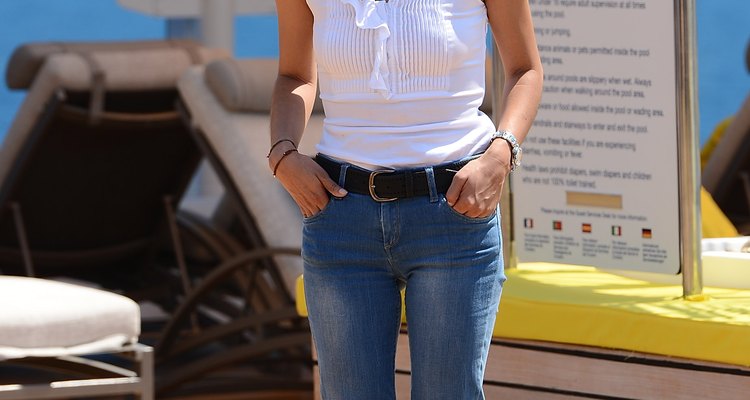 Ian Gavan/Getty Images Entertainment/Getty Images
Jeans are one of the few clothing items that, for the most part, really do go with everything. Depending upon the denim wash, though, you may find that some styles and colors of tops suit one pair better than the next. When looking for the ideal top to match your light blue jeans, consider everything from the season to the shade. You'll find that light-wash denim can breathe new life into your jean routine.
Dark and Light
Any neutral-colored top pairs well with light blue jeans, but the one you choose depends on the degree of contrast you'd like to create. For a relaxed look, opt for minimal contrast by choosing tops in light neutrals such as white, ivory, beige, and light gray. To give the outfit a dressier vibe, opt for tops in espresso brown or black. A pair of light blue boyfriend jeans and a white T-shirt with flat sandals and minimal jewelry is perfect for running errands, while a black dolman-style blouse, chunky gold accessories and ankle booties is dressy enough for a date.
Color Conscious
Tops in clear, bright shades like watermelon, turquoise, coral and hot pink pop against the wash of your jeans without overwhelming the light color palette. Even easier is matching light blue jeans with pastels; butter yellow, peach, baby pink and lavender create a soft and feminine vibe. Wear a collared, button-down blouse in your favorite pastel or don a bright tank top. Round out your outfit with metallic accessories and a nude belt and shoes.
Seasonal Suggestions
There's no rule that you can't wear light blue jeans 365 days a year, but in general the wash is best suited for spring and summer months. With this in mind, let the style of top you choose reflect this seasonal influence. Airy peasant blouses, lace-trimmed tanks, tissue-thin T-shirts and flirty crop tops pair well with light blue denim. Fabrics such as light cotton, eyelet, chiffon and other sheer materials suit the casual summer feel. If you do choose to wear your light-wash denim in colder months, keep the color palette neutral. Opt for a chunky-knit oatmeal sweater or basic top and dark navy blazer for a cohesive look.
Head-to-Toe Blues
Perhaps the easiest top to pair with light blue jeans is a medium- or dark-denim shirt. The trick to rocking denim on denim is keeping the top and bottom hues distinct; if the blue shades are too close, it looks like you made a mistake. Roll up the sleeves of your dark blue button-down, and have fun with the rest of the styling. Tie it above the waistline to a reveal a braided belt, leave it open to show off a tank top or button the shirt and tuck in the front while leaving the back tails loose. Finish your look with basic canvas sneakers, strapped espadrilles, or your favorite smoking flats.
References
Writer Bio
Stacey Kole was managing editor of the International fashion and beauty publication Savvy where she penned stories on all things beauty and style, while writing cover stories on such celebrities as Victoria Hudgens and Julianne Hough. She continues to write for a variety of online fashion, beauty and health publications.
Photo Credits
Ian Gavan/Getty Images Entertainment/Getty Images