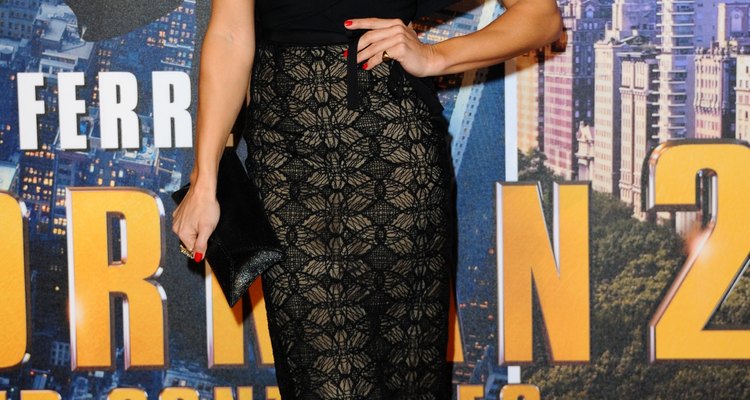 Anthony Harvey/Getty Images Entertainment/Getty Images
A black lace skirt offers the versatility of a neutral color along with the romance and softness of a feminine fabric. This dynamic combination allows you to style your top boldly or delicately, depending on your mood and occasion. Whether you're going for a whimsical day look or an elegant evening out, let your black lace skirt be the basis for a variety of captivating ensembles.
Soft and Light
Play up the soft, girly quality of lace by teaming your skirt with light shades. Neutrals like white, ivory, cream and beige balance the dominance of black, as do feminine pastels like blush, peach, baby pink and lilac. Rock a fitted black lace skirt with an ivory tie-front silk blouse or tan cashmere sweater for a dressy occasion, or dress down an A-line skirt with a light blue chambray button-down. Tie the front of the shirt and slip into black suede ankle booties for a fun, flirty look.
Dark and Bold
Take your ensemble into professional territory by wearing dark neutrals with a black lace skirt. Whether you opt for an all-black, monochromatic look or pick a charcoal-gray or navy-blue blouse, your outfit will communicate an air of strength and sophistication. Team a black lace pencil skirt with a gray blazer to look boardroom-ready, and accessorize with subtle silver jewelry and simple black pumps. For a sexy date-night look, rock a sheer black blouse or leather shell; complete the vibe with nude or metallic heels for an unexpected finish.
References
Writer Bio
Stacey Kole was managing editor of the International fashion and beauty publication Savvy where she penned stories on all things beauty and style, while writing cover stories on such celebrities as Victoria Hudgens and Julianne Hough. She continues to write for a variety of online fashion, beauty and health publications.
Photo Credits
Anthony Harvey/Getty Images Entertainment/Getty Images