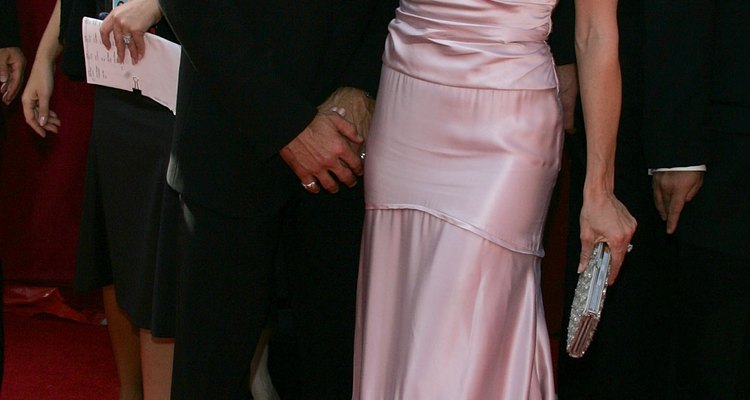 Kevin Winter/Getty Images Entertainment/Getty Images
Wearing a dusty-rose dress evokes a vintage-inspired aesthetic with its subtle, feminine color, so the shoes you wear can drastically change the vibe of your ensemble. Whether you prefer to remain in line with a nostalgic appearance or if you're a fan of mixing old with new, consider the silhouette of your dress, your personal style preferences and the final look you'd like to accomplish when styling your rose-colored dress.
Modern Chic
For a more modern take on styling a dusty-rose dress, start with a sleek silhouette -- think sleeveless sheath dress or long-sleeve shift with a round neckline and straight cut. Slide your feet into a pair of chunky black shoes for an edgy finish. Choose ankle boots with a wide heel when the weather is chilly, and throw on a black moto jacket for extra warmth.For warmer temps, add wedge sandals with wide straps across your foot for a casual summer style.
Sweetly Feminine
When you're wearing a precious-looking dress, such as a chiffon frock with a Peter Pan neckline or a girly, allover lace frock with a flared skirt, the last thing you need is heavy shoes. Reach for sweetly feminine heels that add an extra dose of prettiness without distracting from your dress. Slide your feet into a pair of nude or tonal pumps with slim heels to complete your look.
Glitzy
When you're wearing a dusty rose dress for an occasion, like a fancy anniversary party, a wedding or some other event which calls for some extra sparkle, stick with dainty, high-heeled sandals. Go for metallics, such as gold or silver leather -- if you can find bejeweled shoes with rhinestone detailing, even better. Keep your sandals simple, such as those with a strap across the toes and one across your ankles. Or choose several slim straps with an uppermost strap that hits just below your ankles.
Boho Casual
If your dress instantly conjures up images of the '60s or '70s -- think peasant-style dress with poet's sleeves or an empire-waist frock in an allover crochet fabric -- you need some shoes that aren't too conservative. Look for retro-inspired, chunky shoes, like gray or light brown chukka wedges or lace-up platform Oxfords if the weather is cool. For warmer temps, reach for brown leather wedge sandals with toe and ankle straps and wooden soles for instant bohemian appeal.
References
Writer Bio
Tarah Damask's writing career began in 2003 and includes experience as a fashion writer/editor for Neiman Marcus, short fiction publications in "North Texas Review," a self-published novel, band biographies, charter school curriculum and articles for various websites. Damask holds a Master of Arts in English and creative writing from the University of North Texas.
Photo Credits
Kevin Winter/Getty Images Entertainment/Getty Images