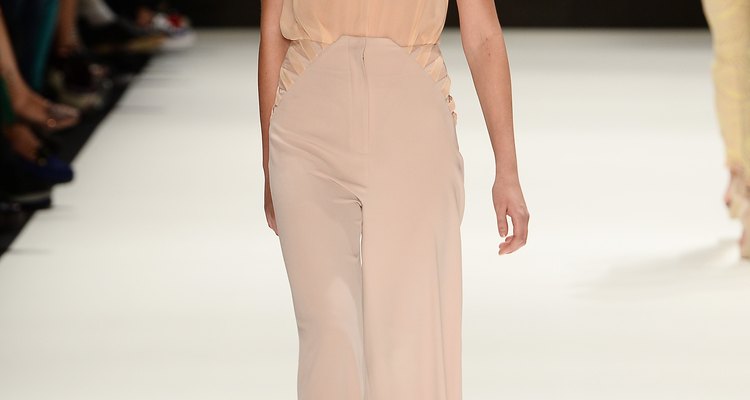 Ian Gavan/Getty Images Entertainment/Getty Images
From the dashing gangsters of the 1920s to Katherine Hepburn's iconic baggy slacks to the flares of the 1970s, wide-legged pants have always thrived in the fashion world, even if they shimmer silently in the face of skinny-legged trends. Among a sea of leggings and tapered cuffs, rocking a pair of loose-legged bottoms lends your ensemble a touch of elegant breeziness or devil-may-care attitude. This type of pant expresses an easygoing demeanor, so you can play fast and loose with your choice of shoes.
The Basics
High-waisted wide-legged pants dominate your silhouette; as you select shoes, focus on that silhouette and strive for balance. Worn with a high-waist cut, subtle shoes -- like loafers or slip-ons -- balance trim tops, while loose, bohemian sweaters and jackets accommodate bolder footwear, like ankle boots. No matter what type of shoe you choose, always match your belt to your kicks. Alternatively, match your shoes to your top or use complementary hues for your belt, bottoms and shoes -- avoid shoes that are exactly the same shade as your pants unless you go black-on-black. Usually, the hem of these voluminous pants should reveal just the tips of your shoes. Bend that rule if you have a particularly interesting pair -- such as two-tones -- and go intentionally high, showing a little stocking or skin.
Casual Clogs
Classic loafers and leather flats pair very pleasingly with neutral wide-legged pants, such as those of the brown, gray, tan, tweed or twill variety. These go especially well when you top your look with a suede blazer or leather jacket. Casual flats -- such as ballet flats or canvas kicks -- flatter women of tall or medium height. Choose textured or patterned ballet flats to add interest to plain pants, or stick with solid colors when wearing textured or patterned bottoms. For a little lift, casual platforms -- such as Mary Janes or open toes with thicker soles -- play nicely with wide legs.
Formal Footwear
Virtually any type of wide-legged pant looks good with a little lift. For more formal affairs, go with tried-and-true classics such as wedges or stilettos. These tall shoes really highlight the lengthening effect of long, loose pants, even for petite ladies. If you're already long and slim, you can go with lower heels or fancy flats -- such as brocade flats -- to nail that ageless Katherine Hepburn look. Choose rounded toes for a flowing effect or let your daring pointy-toed heels just peek out of your hem for an aggressive look. When you're sporting less-billowy modified wide legs, feel free to go strappy and open-toed.
For the Boys
Aside from the bits about heels, most of the ground rules that apply to women also apply to men when it comes to complementing your wide-legged pants with shoes. Tall chaps are safe with flats, while more compact gents should investigate chunkier styles. For a rakish look, go with black leather loafers paired with sleek black or gray pants, or choose tan or camel loafers to lighten up your ensemble. Loose-legged pants and brown oxfords or dual-toned loafers will always remain stylish. If your wide legs have a higher hem, balance it out with a pair of sleek leather boots or patent-leather dress shoes with matching formal socks.
References
Resources
Writer Bio
With a diverse professional background and a decade of experience as a freelance writer, Dan has contributed lifestyle content -- from fashion to travel to fitness and more -- to publishers including Chron, Fortune, Sony, GlobalPost, ModernMom, Moviefone, Salon.com, Techwalla and dozens of others.
Photo Credits
Ian Gavan/Getty Images Entertainment/Getty Images