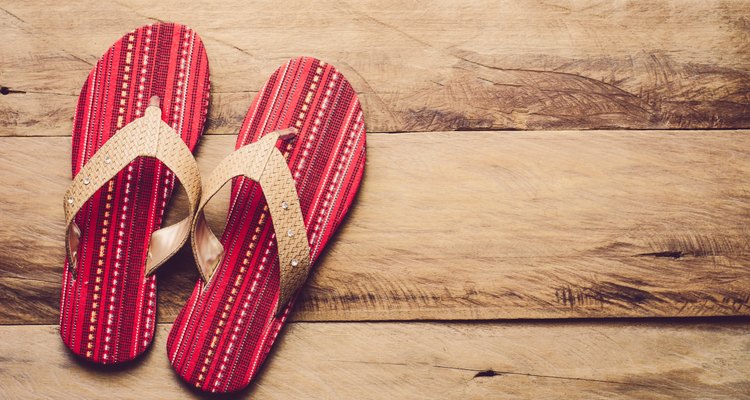 Atit Phetmuangtong / EyeEm/EyeEm/GettyImages
No matter the pretty feet ads and the surplus of flip-flops at every store, ugly feet are more common than you may think.
Ugly celebrity feet pics float around the internet, and there's even a whole healthcare profession dedicated to the care of ugly feet. That's right--dedicated to caring for those feet with hammer toes, bunions, corns, and other such maladies that come with the aches and pains of life.
So what's a gal with ugly feet to do come summer? Never again will your feet have to go into hiding with these special tips from a foot fan who wants to see your feet stylish and confident in their summer fashions.
Here's what to look for when you go shoe shopping for ugly feet.
Look for flip-flops with toe rings. Not just a band, but the kind that cover the whole side of your big toe, and then get smaller as it wraps around it. These are usually seen in higher-end leather sandals. These will cover big-toe bunions, but also bare the prettier side of your feet, giving them lots of air to breathe in and lots of attention needed to show off your pretty nail polish.
Look for peep-toes. These are incredibly flattering--offering healthy coverage, but also only letting a select few of your nails show.
Look for wide bands.When shopping for slides, choose wide bands to cover long toes. These make toes appear shorter and still offer comfort and style.
Choose summer slides in flat styles. Slides with heels tend to encourage your foot to slide down--which leads to a toe hanging over the cliff effect. (Not pretty!)
Opt for patent ballet flats. Patent ballet flats still say summer, and flatter most feet and most wardrobe styles. A plus: Pair the same pair with tights in the fall and let them go an extra mile!
Resources
Writer Bio
This article was written by a professional writer, copy edited and fact checked through a multi-point auditing system, in efforts to ensure our readers only receive the best information. To submit your questions or ideas, or to simply learn more, see our about us page: link below.