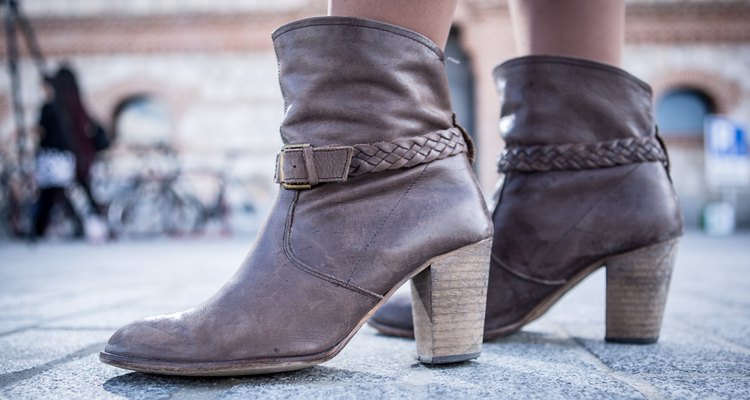 Pablo Cuadra/Getty Images Entertainment/Getty Images
Dressing to suit your body type can be difficult, especially when you're dealing with a piece like leggings; they'll highlight every lump and bump with no mercy to spare. Ankle boots can be just as tricky, cutting off the leg at what can seem like an awkward area. If you qualify as petite, you can still wear this fashionable combination by keeping in mind a few simple style rules.
Touch and Agree
Petite figures are best flattered by long leggings, rather than those that cut off around mid-calf. Sadly, short leggings make already-short legs look shorter. Full-length leggings are the way to a lengthy look, especially when they reach the tops of your footwear without showing a line of skin between the pant and the boot. This unbroken vertical line helps to make your figure look long and lean.
Meet Your Match
The lengthening effect of long leggings and ankle boots is amplified if the two pieces match in color. Black leggings and black ankle boots are an easy go-to standard, but other colors work this way too. Try leggings in a deep espresso brown and pair with mahogany-brown boots, or don charcoal leggings with black suede ankle boots for a similar lengthening effect.
Bottoms Up
Leggings may be fun, but they come with one rule: Always cover your butt, whether with shorts, skirts or a dress. When you're picking some bottoms to cover your (petite) bottom, you're better off staying on the short side. Choose short skirts, dresses and even shorts to wear over your leggings, as they won't interfere with the long line your leggings and ankle boots create. Try cut-off denim skirts or shorts for an edgy touch, or a sleek and structured skirt that hits just above the knee for an office-ready look.
Finishing Touches
Just because long, dark leggings flatter you best, doesn't mean you should feel locked into one style of leggings. Your small frame means you can play with colors, textures and finishes other than plain opaque; try shiny leather leggings, for instance, or steamy lace ones. Mix up basic black with burgundy or purple, and try subtle patterns, such as houndstooth or plaid, for extra fashion flair.
References
Writer Bio
Whitney DeGroat began her writing career in 2007 at "The Springfield Paper." She has also written for newspapers such as the "Springfield News-Sun" and "Dayton Daily News" and served as a fashion columnist for "The Torch." DeGroat received a Bachelor of Arts in English at Wittenberg University.
Photo Credits
Pablo Cuadra/Getty Images Entertainment/Getty Images