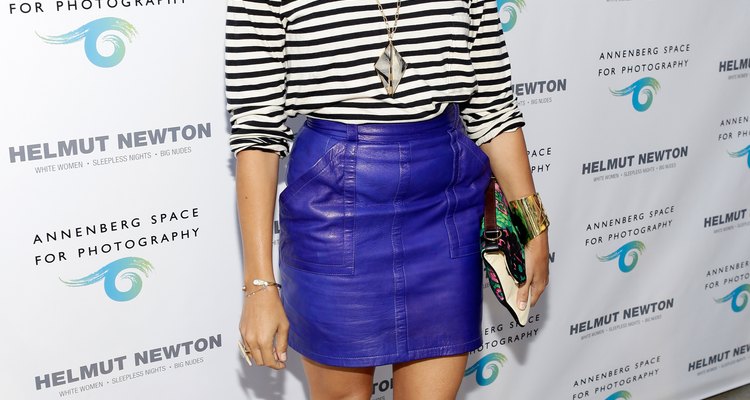 Mike Windle/Getty Images Entertainment/Getty Images
Don't hesitate to add an instant dose of edge to your look with a leather skirt. Leather skirts are more versatile than you may think and can be worn in lots of surprising ways. Start with your shoes, and work your way up to create a leather look that's all your own.
Pumps
A pair of basic pumps makes a leather skirt as prim and proper as a traditional wool number. Pumps work with a leather skirt in any silhouette; they instantly lengthen your legs and slim your frame. Choose closed-toe pumps or peep-toe styles, or look even more leggy by choosing a pump that closely matches your skin tone. Finish things off with a ladylike blouse.
Strappy Sandals
Leather isn't just keeping your legs warm during the colder months. Wear a leather skirt in the summer with a pair of strappy sandals. Sandals keep your look sexy and your feet comfortably cool. Pair them with a lightweight leather skirt that will be a bit airier in hot weather. Up top, a simple tank, blouse or crop top completes the look.
Boots and Booties
When you're wearing a leather skirt in the winter, boots and booties keep your feet warm and toasty. Go daring with knee-high boots and a skirt that leaves a tiny strip of leg between the two. Ankle boots are an edgy but more conservative pairing. Keep your legs warm by slipping on a pair of tights. Up top, tuck in a blouse, throw on a blazer or opt for a sweater.
Flats
Flats dress down a leather skirt and make it more practical for daytime wear. A simple pair of ballet flats keeps the look girly yet comfortable. For a more interesting combination, put on a pair of cool canvas sneakers and throw T-shirt on top. Flat menswear-inspired oxfords create a juxtaposition between feminine and masculine that makes your look stand out.
References
Writer Bio
Pamela Simmons has been writing professionally since 2009. Her articles on fashion, beauty and other topics have appeared on Denim Therapy and other websites. Simmons serves as an editor and public relations manager for CHIC.TV. She holds a Bachelor of Science in international affairs from Georgia Tech and a Master of Business Administration from Mercer University.
Photo Credits
Mike Windle/Getty Images Entertainment/Getty Images