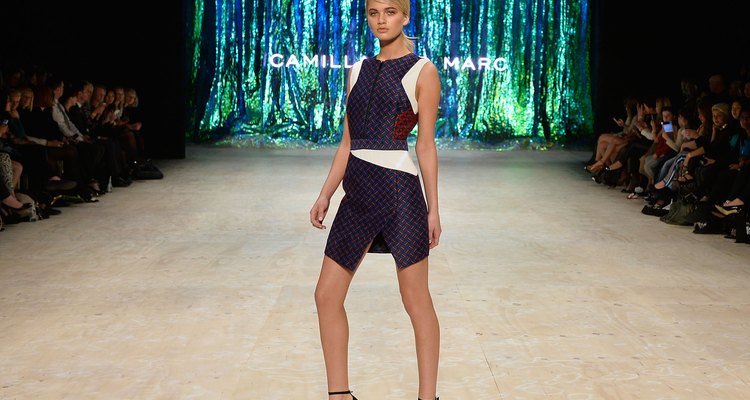 Stefan Gosatti/Getty Images Entertainment/Getty Images
If you're in the market for a new staple shoe that complements your legs and any dress in your wardrobe, you'll find your star in a pair of ankle-strap high heels. Part of the universal appeal of the ankle-strap heel is that any variation -- open toe, pointed toe, graphic print or platform -- will make your legs will look longer and shapelier and will add subtle or serious feminine appeal, depending on which dress you choose to pair with the shoe's magic touch.
Knee-Length Dresses
With an A-line knee-length dress that has a floral pattern and a full skirt, keep your ankle-strap sandal simple and coordinated -- a round-toe or pointed-toe ankle-strap heel in a neutral color with a small strap is a lovely choice. If your dress is a more modern-chic style -- such as a black, slim-fit dress that has an angled hem and is made of an edgy material like leather or waxed denim -- go with graphic-print, ankle-strap pumps that have matching, thick, elasticated ankle straps, high stiletto heels and sharply pointed toes. That is ladylike glamour on the move.
Short Dresses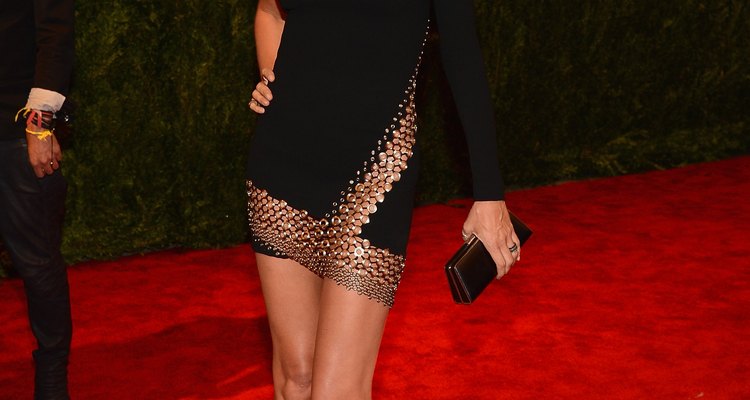 Larry Busacca/Getty Images Entertainment/Getty Images
If your legs are your favorite assets, but them on display with a minidress and a pair of barely-there ankle-strap heels with super-skinny or neutral-colored straps. You'll be all legs, regardless of your height. If you have a collared, buttoned-up, thigh-high, pleated dress that you want to keep coquettish, a chunkier style of ankle-strap sandal is the ideal choice -- opt for a stacked heel, a T-strap style that has significant detailing, or a wide-ankle cuff. These versions of the heel are more substantial and will draw extra attention to the foot, breaking up the illusion that you are all legs.
Long Dresses
Regardless of the shoe's height, a strappy, open-toe, ankle-strap with a skinny stiletto heel balances the ample material of a long maxi dress. This look is especially sexy if you find a maxi dress with a thigh-high slit that dramatically reveals one of your legs when you walk. A pair of skinny-strap sandals are the perfect shoes to pack for a tropical vacation. Wear them with an ankle-brushing, chiffon or linen, halter dress for an exceptionally beachy-elegant look that'll be both chic and comfortable at an outdoor dinner on a warm evening.
Statement Dresses
An ankle-strap heel can complement a bold statement dress by providing a touch of style without covering too much skin, keeping the focus on the dress. Show off a cocktail dress by wearing a nude-ankle-strap sandal with a black toe box. You'll end up with on-trend sophisticated style when you pair a statement shoe with a statement dress. A long-sleeved, floor-length dress in a bold color like red paired with a matching-colored, ankle-strap heel will do the trick -- look for a red heel that has some sparkle, a box toe and a criss-crossing ribbon strap to stand out at any event.
Work Dresses
The fashionable style of ankle-strap heels gives an appropriate touch of sexy-chic to a sophisticated sheath dress for work. To make a professional statement, keep things monochromatic and classic with a solid black or navy, belted sheath dress and a black, closed-toe, ankle-strap heel. Or go with a conservative-style dress that hits just below the knee, accompanied by a heel no higher than three inches -- complete the look with a matching structured blazer. If your office environment is more playful, the same style of sheath dress in navy can take a pop of color with a fuchsia-pink, ankle-strap heel and a colorful accessory piece to pull it all together, like a vivid floral scarf or a pair of multi-colored gemstone earrings.
References
Writer Bio
Angela Bakke is a Los Angeles-based writer and reporter with more than a decade of experience covering fashion, beauty, the arts and entertainment. She has interviewed some of the most famous people in the world and covered stories for Beyond Cinema, Hollywood.com, ReelzChannel, CNN.com and Celebs.com.
Photo Credits
Stefan Gosatti/Getty Images Entertainment/Getty Images