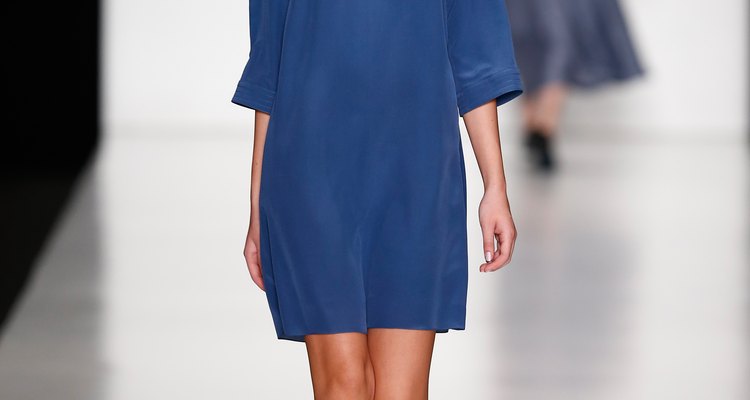 Andreas Rentz/Getty Images Entertainment/Getty Images
Timeless and classic. These two words describe both sheath and shift dress silhouettes. Worn by style icons like Jacqueline Kennedy Onassis and Audrey Hepburn, as well as actresses on the silver screen like Sharon Stone, designer fashions embrace these two silhouettes virtually every collection season, with updates in fabric and trim. Though both styles are often sleeveless and hang from the shoulders, the key difference is in the silhouette and fit.
What's in a Sheath
A sheath gives you a bit of contour. This form-fitting frock generally finishes at mid-thigh to just above the knee and fits snugly along your body shape, showing your curves. If you want to conceal certain areas, embrace sheath styles with specific details. Beaded necklines move your eyes upward, away from wide hips. If you want to conceal your tummy, look for ruching details -- gathers concentrated in one area of the garment -- along the front of the dress, which create the illusion of a flattened midriff. Flaunt a well-proportioned figure with a skinny belt or decorative sash to define your waistline.
Styling the Sheath
Shop your closet and style your navy, gray or black sheath for the office with a strand of pearls, matching handbag and kitten-heel shoes, a la Hepburn in the 1954 film "Sabrina." Wrap a cardigan over your shoulders for a preppy look. You can also pick a detail from your sheath -- buttons, zippers or bows -- and match the trim with your footwear or handbag embellishments. Because you're wearing a contoured dress, it should properly fit. A neckline that lies flat and a well-fitted bust line that does not include pulling at the sides or misaligned darts are two key fit factors. The armholes and hips should be shaped and should not constrict, allowing for comfortable movement.
The Timeless Shift
A shift gives you a little bit of room to move. This columnar-shaped dress hangs from shoulder to hemline without hugging your body or appearing too boxy. The silhouette grazes the outline of your shape. Because shift dresses vary, look for a style that flatters your body. Conceal your tummy wearing shifts made of stretch blends or with design details, such as a pleated front. If you want to tone down a large bust, look for deep, V-neck shifts with vertical or diagonal darts. An A-line shift with vertical line details that create the illusion of length camouflages wide hips and thighs.
Styling the Shift
As with the sheath, select a prominent design or trim detail from your shift to pair with your accessories and footwear. If your shift features exposed metal zipper details along the shoulder line or pockets, add knee-high or ankle booties with zipper details for a cohesive look. A patterned shift, such as a dotted print with center front bow trim, is part of a total look when you add platform pumps with bow embellishments. Peep-toe pumps that have contrasting inserts and decorative heels set off a bright, color-blocked shift.
References
Resources
Writer Bio
Mercedes Valladares is the founder of M721Organics and has been an independent designer for over 15 years. Her work experience commenced during college with manufacturers based in New York and Hong Kong. Her education includes LIM College, International Fine Arts College and design certification from the Paris Fashion Institute. She produces eco-crafting videos and writes recycling articles online.
Photo Credits
Andreas Rentz/Getty Images Entertainment/Getty Images