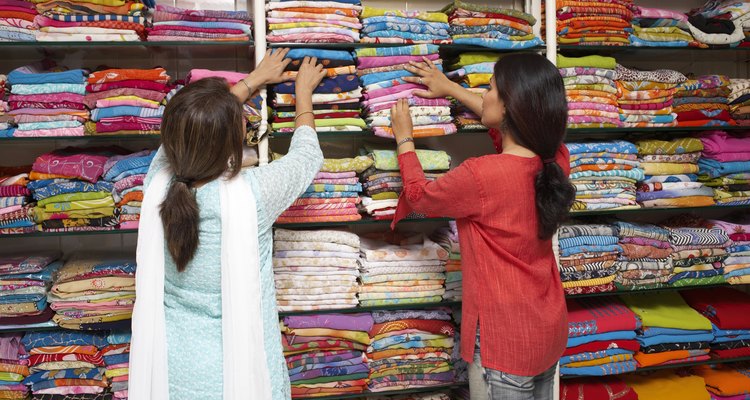 Yamini Chao/Digital Vision/Getty Images
Classic preppy style clothing creates an effortlessly classy and timeless look. Yet, building a preppy wardrobe that is fashion forward, rather than bland, can be difficult. By selecting the right articles of clothing to add to your wardrobe, you can master the preppy look and be the queen of the polo shirt scene.
Preppy Tops
For a casual preppy look, a striped T-shirt can't be beat. Spice up the look by scoring a top with unevenly spaced or brightly colored stripes. For a more formal look, go for a silk top in a bright color or one with an unusual neckline. Polo shirts and classic button-downs are also key staples in any preppy wardrobe. For cooler weather, keep a button-down cardigan, dark-colored blazer or classic trench coat on hand.
Preppy Pants
Khaki pants have been a major preppy staple item for years. Today khaki pants are still an important part of a preppy wardrobe, but brightly colored pants have also earned their place in a classic wardrobe. Seek out jeans in colors like nautical blue or peach. Tailored silk pants are excellent for preppy evening outfits; they are stylish in classic black or metallic colors.
Preppy Dresses
When it comes to preppy dresses, it's all about the shift cut. Shift dresses are modest, but they skim curves in a way that is flattering on almost all body types. Brightly patterned shift dresses are classic and still popular today, but color-blocked shift dresses are also popular. For summertime, select dresses in colors like juicy mango and aquatic light blue. For winter, try classic red, navy or shimmery metallic tones.
Preppy Accessories
Braided bracelets are an excellent addition to a daytime preppy look. In the evening, pearl jewelry is appropriate. A pearl necklace is classic, but a pearl ring can add an unexpected touch to an outfit. Preppy footwear is generally made of neutral-toned leather. Smoking shoes, riding boots and wedge-style heels are all classic preppy shoe choices. Headbands and hair bows can add a whimsical touch to a preppy look during the day or in the evening.
References
Writer Bio
Alexandra Corbella has been writing for more than 10 years. She has been published everywhere from the "The Collector" to popular blogs like Beauty Collection and Collective310. She holds a Political Science degree, and has worked for several politicians. She earned a M.A. in History in 2012.
Photo Credits
Yamini Chao/Digital Vision/Getty Images