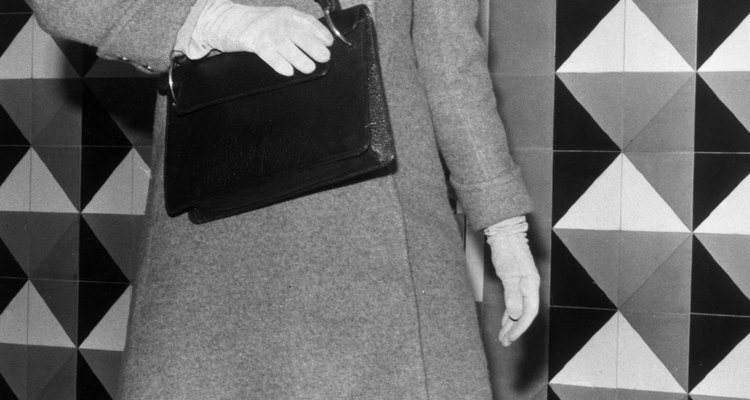 Jim Gray/Hulton Archive/Getty Images
You can look like you just stepped into Camelot's first family if you wear outfits inspired by Jacqueline Bouvier Kennedy Onassis. The former first lady was often referred to as a style icon. Her fashion sense continued to evolve during each stage of her life. Although she wore designer fashions by Oleg Cassini, Christian Dior, Hubert de Givenchy and Coco Chanel, you can achieve her signature looks by restyling everyday wardrobe items. Imitating her classic style will leave a lasting impression, whether you choose to emulate Jacqueline's look during her 1960s White House years or her style as Jackie O when she married the Greek shipping tycoon Aristotle Onassis.
Hail to the Shift and Sheath
Jackie often wore two simple dress styles -- the shift and the sheath. The shift dress is a generally sleeveless frock that hangs from your shoulders. Frequently seen in iconic photographs of the first lady, this frock skims your shape's outline. The dress drapes loosely, flattering your figure while concealing other areas. As an alternative, wear a form-fitting sheath dress with waistline details, such as a center-front bow or buttons. You can wear both dress silhouettes in solid colors or prints like allover floral patterns.
Timeless Boxy Suits
Wear Jackie's look to the office by donning a classic, boxy skirt suit. Recreate this suit style by choosing a waist-length jacket in a single- or double- breasted silhouette with a matching knee-length skirt. Since this jacket style primarily includes set-in sleeves, play with your sleeve length; try three-quarter length. Duplicate Jackie's style by selecting pastel hues, such as pink, peach, sky blue or light yellow. Finish your look with a few strands of pearls and round-toe pumps that can transition from daytime to evening.
Sophisticated Toppers
Mimic Jacqueline's style by choosing a leopard-print coat to top off your outfit. Pair it with a wide-rib neckline sweater in a neutral color and rolled boyfriend jeans. You can also go for wide-cut coats, which were worn by the first lady on the campaign trail and throughout her years at the White House. Shop your closet and pick a coat with a mid-thigh hemline in a double-breasted silhouette that skims your body shape. If you admire Jackie's later years, opt for a khaki-colored trench coat.
Classic Pants
Create a minimalist vibe with bottoms in solid colors; go for wide-legged pant silhouettes and flared, cuffed bottom details. Pair a button-down blouse with wide-leg tweed pants and pumps. You can also opt for white, flared jeans matched with a black turtleneck for the fall or a black T-shirt in the spring. As an alternative, duplicate Jackie's 1970s style with a striped, contoured top and white capri bottoms. Or try an all-white outfit with beaded sandals.
Signature Accessories
Style your outfit with one of Jackie's signature accessories, such as a scarf, pillbox hat, handbag or her iconic sunglasses. Headscarves can be worn in different fashions, ranging from kerchief style to a bohemian head-wrap look. Choose solid or printed scarves in delicate fabrics, such as silk, georgette or chiffon. For a conservative look, wear a pillbox hat or carry a Jackie-inspired hobo bag. Complete your outfit with oversized sunglasses.
A Night to Remember
If you're attending a special event, recreate Jacqueline's look with a column-silhouette evening gown trimmed with a wide, ribbon sash in a similar hue. Accentuate the outfit with long satin gloves. For a cohesive look, channel your inner Jackie by recreating her natural-looking makeup. Select shades that play up your eyes and finish your makeup with a light pink lipstick. Style your hair in an updo with a ribbon effect to finish your evening look.
References
Writer Bio
Mercedes Valladares is the founder of M721Organics and has been an independent designer for over 15 years. Her work experience commenced during college with manufacturers based in New York and Hong Kong. Her education includes LIM College, International Fine Arts College and design certification from the Paris Fashion Institute. She produces eco-crafting videos and writes recycling articles online.
Photo Credits
Jim Gray/Hulton Archive/Getty Images