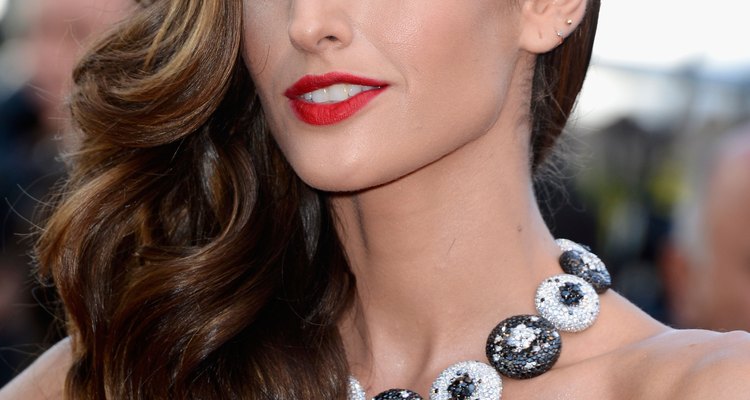 Pascal Le Segretain/Getty Images Entertainment/Getty Images
Rocking a strapless dress is a stylish way to showcase radiant skin and a great fashion sense. While chic strapless dress styles can stand on their own, the right accessories do wonders to enhance the overall vibe of your look. Whether the look you're going for is glamour, sophistication or edge, you can strategically use accessories to make a strapless dress completely your own.
Elegant Earrings
Earrings are a great way to add glitz to your ensemble without overpowering the neckline of your dress. Whether it's a pair of gold hoop earrings or a dangling, embellished chandelier style, earrings enhance your overall look and draw attention to your top half in all the right ways. If your dress contains heavy embellishments at the neckline, opt for a subdued earring like diamond or rhinestone studs. Other accessories that draw attention to this area -- like an embellished hair clip -- will keep the overall focus on your face and gorgeous strapless neckline.
Nothin' but Necklaces
Although simplicity is often key when rocking a strapless style, it's possible to wear necklaces without distracting from a gorgeous neckline. In fact, many times a necklace enhances the bare canvas you get by wearing a strapless dress. Try a short, gold chain-style or an oversized, embellished collar necklace to draw attention to your decolletage. Long strands of delicate chains might also be appropriate if the embellishment on your dress is minimal. When sporting a jewel-tone strapless dress, opt for a necklace with multi-colored stones for a fabulous outfit sure to turn heads. Be careful to not choose earrings and a necklace that compete with each other; a large statement necklace is typically best worn with a smaller, simple earring. Additionally, if your neckline is embellished, forgo a necklace all together in favor of a glam pair of earrings.
Bling on the Bracelets
You may choose to let the unique neckline of your strapless stand on its own, in which case you'll want a piece of arm candy to liven things up. Opt for an embellished cuff bracelet or a stack of gold or silver bangles for added glitz. A classic wristwatch is another option for a sophisticated ensemble. When rocking solid-color dresses, colorful bracelets add a fresh dose of color for the spring and summer months.
Stylish Shoes and Brilliant Belts
Strapless dresses pair well with many types of footwear. For an elegant appearance, wear yours with pointy-toe pumps in basic shades like tan or black, or go with a bright pop of color if your dress is a neutral hue. Bright dresses look fabulous when paired with high-heeled metallic sandals. When sporting short styles of strapless dresses, you may want to avoid platform heels that can look too severe -- opt for strappy stiletto heel instead. Also consider using a belt to transform the vibe of your strapless silhouette. For instance, if your dress is in a pretty floral pattern, add a studded belt to toughen up the look. Belts with gold hardware are another great option to add edge to feminine dresses.
References
Writer Bio
Sara Cantu has been writing fashion and lifestyle articles since 2009. As a fashion stylist, writer and blogger, she has been published in "Lady Couture" magazine and "RGV" magazine. She holds a Bachelor of Arts in journalism from The University of Texas - Pan American.
Photo Credits
Pascal Le Segretain/Getty Images Entertainment/Getty Images