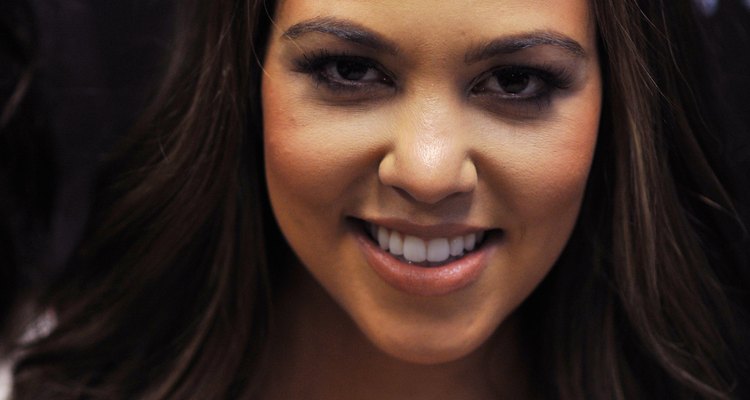 Michael Stewart/Getty Images Entertainment/Getty Images
From simple to bold, a necklace is an accessory that takes your outfit from drab to divine in an instant. The right necklace for your body type not only adds an exclamation point to your ensemble, but will elongate the torso, neck and face. If you are a petite girl, you'll need to select the right type of necklace that won't overpower your small frame, but will allow you to accessorize with figure-flattering style.
Standard Necklace Sizes
No matter what its shape or size, a necklace always draws attention to the neckline and bust. Standard necklace sizes include a 16-inch choker length; an 18-inch princess-length necklace that rests at the collarbone; a 20-inch matinee chain that hangs a few inches below the collarbone; and a long opera-length necklace that is between 28 and 36 inches in length.
Pendant Necklaces
Pendant necklaces are the workhorse accessory of the modern woman's wardrobe. If you are petite, you can adorn your neck with a simple silver chain and pearl pendant for daytime or a rhinestone and silver pendant sparkler for evening. No matter what the occasion, a pendant is a delicate piece of jewelry that beautifully complements crewneck, V-neck and button-down tops along with boat-neck and spaghetti-strap dresses.
Long Necklaces
The editors of "Instyle" magazine point out that long necklaces have the potential to lengthen a short neck, while at the same time taking the focus away from voluminous hips. If you're looking to lengthen your appearance, wear your pearl, gold, silver or crystal long necklaces with a button-down shirt and slacks for work or a simple slip dress and sandals for a party. To let your long necklaces take center stage, pair your pieces with tiny hoops or diamond studs. A long chain necklace that hangs between the bust and the waist makes a petite girl appear taller.
Necklaces for Your Face Shape
If you have a round face, V-shape and oblong necklaces flatter your body type best. Petites with oval face shapes look best in most necklace styles except thick and bulky chokers. Square-faced beauties and petites with heart-shaped faces look best in pendants with a long V, matinee chains and round necklaces. Petites with triangle face shapes shine in round necklaces such as chokers, layered princess-length chains and collar-style necklaces.
Necklace Styles to Avoid
Typically, short girls look best in collar-style necklaces, petite chokers and princess-length necklaces. Skip large and heavy chokers and statement necklaces with big stones that gives the illusion of a short neck. Avoid wearing large gumball-sized necklaces, big beads and heavy chain link necklaces that will add bulk to your neckline and chest. Wearing three or four layered chains of different lengths definitely makes a style statement, but draping your neck with more than two necklaces at a time will overwhelm a petite girl's body.
References
Writer Bio
Mimi Abney is a lifestyle writer specializing in online content for women. Her work has appeared in NewsOK.com and "Keepsake Magazine," among other publications. With over 15 years of writing and editing experience for the web and print, Abney is also a contributor to online health, beauty and fashion publications. She holds a Bachelor of Science in biology from Spelman College.
Photo Credits
Michael Stewart/Getty Images Entertainment/Getty Images