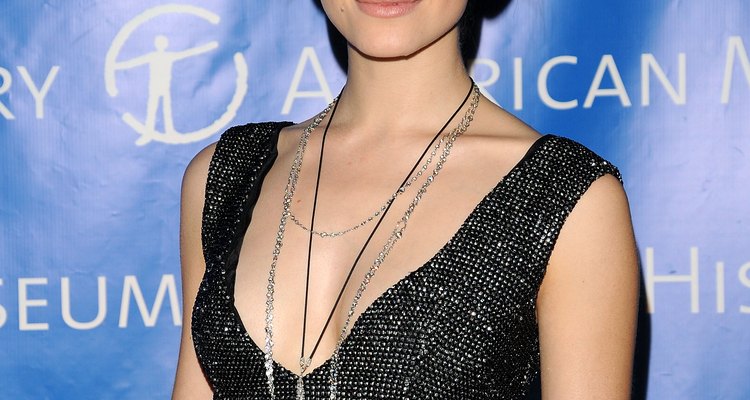 Andrew H. Walker/Getty Images Entertainment/Getty Images
When you want to stand out, a sequined top can definitely get the job done. Choosing a style with black sequins helps to prevent your look from going over the top, as the dark neutral shade helps tone down the bling. That doesn't mean that styling a black sequined top is easy -- it can be difficult to figure out what jewelry to wear with such an in-your-face top. With all their shine, the sequins can act as jewelry themselves; for a polished look, find complementary -- instead of competitive -- accessory pieces.
Play It By Ear
If you're wearing your sequin top during the day or in a more casual setting, simple earrings are your best bet. Small studs are a good option -- since the top is black, you can opt for stones in virtually any color. Diamond or cubic zirconia and pearl studs offer the most elegant look, while real or costume earrings in emerald or ruby shades pop. Plain hoops also work well with a sequin top; gold and silver styles both coordinate with black sequins. If you're dressing up your sequin top for a special occasion, you can rock slightly more dramatic earrings. A drop style with pearls and rhinestones provides just enough bling to brighten your face.
Load Up on Arm Candy
Bracelets are an ideal option when you're accessorizing a sequin top. During the day, simple gold or silver bangles can work well with the top -- you can even mix the two metals to give your look a little more personality. If you prefer a minimalist vibe, pair the top with a simple cuff bracelet in either metal. You can also dress down the sequin top by wearing it with a leather wrap bracelet that has a handmade look. For an evening out, a diamond or cubic zirconia tennis bracelet offers a subtle touch of elegance to your outfit.
Give It a Ring
Rings are the perfect place to make a statement with jewelry, as the distance between your hand and the top allows for some room to play. A chunky gold or silver ring is always in good taste, but you jazz up the look with a bright purple, red or fuchsia cocktail ring in a whimsical shape, like a flower. For extra glam, choose an oversized cocktail ring that features black rhinestones to echo the sequins in your top.
Don't Put Your Neck Out
With a sequin top, a necklace isn't necessary. In fact, if you pair your top with a bold statement necklace, the sequins and necklace are likely to compete for attention and wind up looking overdone. For a simple, polished look, skip the necklace and opt for earrings and a bracelet or ring instead. If you prefer to layer on the jewelry for a strong style statement, choose plain gold or silver chains with a small pendant to not conflict with the sequins. A traditional strand of pearls is another tasteful option that radiates sophistication.
References
Writer Bio
Based in New York City, Jennifer Blair has been covering all things home and garden since 2001. Her writing has appeared on BobVila.com, World Lifestyle, and House Logic. Blair holds a Bachelor of Arts in Writing Seminars from the Johns Hopkins University in Baltimore, Maryland.
Photo Credits
Andrew H. Walker/Getty Images Entertainment/Getty Images