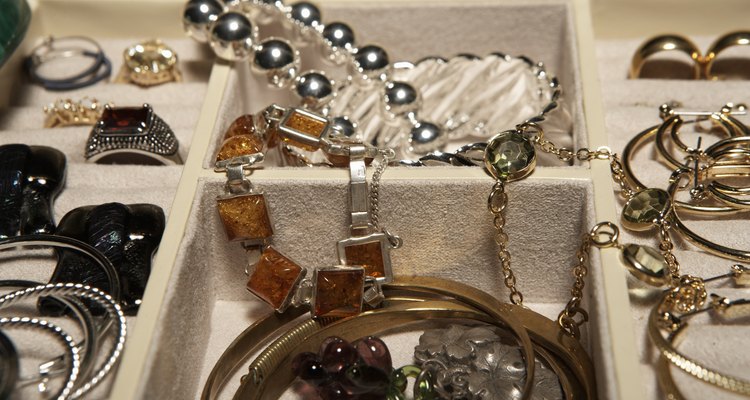 Thomas Northcut/Photodisc/Getty Images
Transform old rings from the bottom of your jewelry box into eclectic and beautiful necklaces. Updating your jewelry this way can be incredibly simple when completed as a fun DIY project with your daughter, or more elaborate when altered by a professional. Either way, your old ring is sure to look fresh and new.
Keep It Simple
Pick a ring or a selection of rings and slip them onto a simple necklace chain. A basic gold or silver band looks sweet on a gold or silver chain. You can create movement and interest when different sized bands are paired together. For a statement necklace, try five or seven larger rings with gemstones and thread a gold, silver or black satin ribbon through them.
Three Ring Necklace -- Tools & Supplies Needed
Up the ante with a three-ring necklace. In addition to three rings, this DIY project will require a chain link necklace, flat-nosed pliers and a a lobster claw clasp -- any other jewelry clasp will work also. You can find all these tools at your local crafts store.
Three Ring Necklace -- Assembly
Use your pliers to open a link on your necklace. Loop the ring onto this link and use your pliers to close it back. Repeat with your other rings, leaving at least a few links between each ring and making sure to space each one evenly. Three rings create a charming look but feel free to use more or less depending on your preference.
Transform Your Ring
Take your ring to a jeweler to really reshape it. Many ladies choose this option when dealing with a piece of fine jewelry or an expensive ring that was given as a gift from a mate who wasn't as easy to reform! The gold, silver or platinum band of your ring can be melted down and reworked. If you have a ring with a precious metal, the gem can be reset and used as a pendant for your necklace. Talk to your jeweler about what you'd like and work with them to design a necklace you'll love.
References
Writer Bio
Pamela Simmons has been writing professionally since 2009. Her articles on fashion, beauty and other topics have appeared on Denim Therapy and other websites. Simmons serves as an editor and public relations manager for CHIC.TV. She holds a Bachelor of Science in international affairs from Georgia Tech and a Master of Business Administration from Mercer University.
Photo Credits
Thomas Northcut/Photodisc/Getty Images