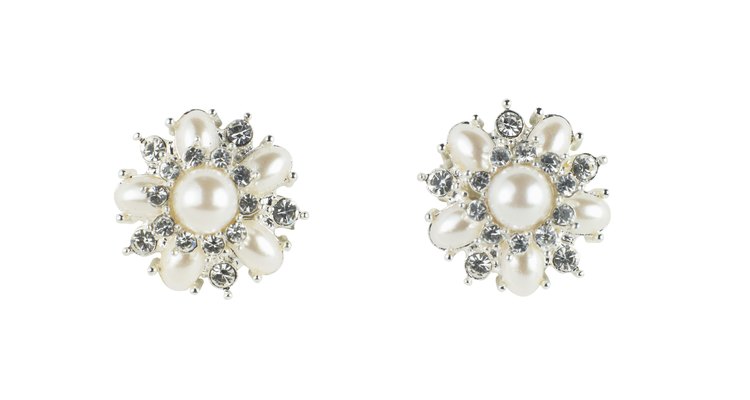 Ryan McVay/Photodisc/Getty Images
A string of pearls is classic and sophisticated, and perhaps more versatile than you think. Take a pearl necklace to be restrung and cleaned, which may give it a fresh new look. Or transform old pearls with some updating and repurposing. Bring them to a jeweler to be appraised before you begin to work with them, as certain natural pearls may be quite valuable.
Update
Find ways to update a pearl necklace for a contemporary, personalized look. String charms onto the necklace so that they sit between the pearls, or place a single gem or pendant so that it sits in the center of the necklace. Weave a colored ribbon in between the pearls, or go edgier by inserting safety pins among the pearls. Bring the necklace to a professional who can restring them in a design that includes beads, or who can combine several strands with a single clasp.
Repurpose
Use old pearls to create a pair of earrings, a ring or a bracelet. String old pearls with new ones onto jewelry wire, then shape them into chandelier earrings. Similarly, mix old pearls with beads, gems and charms to create a personalized bracelet. Consult with a jeweler if you wish to combine pearls with precious or semi-precious stones to make a ring, brooch, or stud earrings.
Accessorize
Think outside of the jewelry box for new ways to wear your pearls. If you have a long string of pearls, sling it around your waist to create a loose, decorative belt for your favorite dress. Or insert pearls into an updo for an elegant hairstyle, as seen in Chanel's Spring 2012 runway show. Ask a jeweler to create single pearl-topped hairpins or simply string the pearl strand through your hair.
Go Casual and Contemporary
Wear a strand of old pearls in an unexpected and contemporary way. Pair pearls with a leather motorcycle jacket, a bright geometric or jungle print dress, or a crisp white T-shirt and jeans. Layer pearls with costume jewelry for a casual look. Create contrast with a single pearl bracelet among trendier leather, gold or neon arm pieces.
References
Writer Bio
Aiden Summer is a creative production consultant for artists, architects and designers.
Photo Credits
Ryan McVay/Photodisc/Getty Images