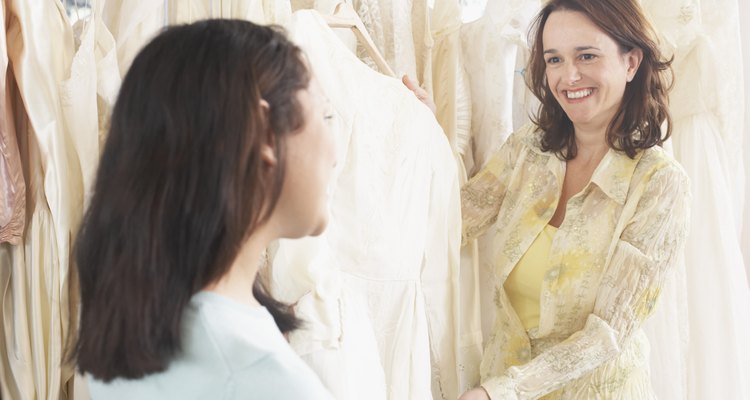 Jack Hollingsworth/Digital Vision/Getty Images
If you're a frugal bride, you not only want your wedding gown to be eye-catching, but also unique and personal -- without breaking the bank. Forgo expensive designer wedding gowns and create your own unique wedding dress by the use of embellishments and eye-catching accessories. You can use several strategies to accomplish this. Whichever you choose, it will add some sparkle to your wedding day.
Rhinestones
Use fabric glue to add rhinestones on your dress, if you're bold. The key to success is moderation and right placement. Don't use more than three different types of rhinestones in order to keep the decoration simple and stylish.
Place the rhinestones on parts of the dress that you want to highlight. When you wear a wedding dress with a low-cut back, place some rhinestones on the back so that this feature of the dress is accentuated.
Avoid adding rhinestone decoration around your legs, especially the back of your legs, because they can irritate you when you walk or sit down. Keep it stylish, but also comfortable.
Appliques
Sew lace appliques to your gown. Available at fabric shops, appliqués may be embellished with sequins, pearls and intricate embroidery. Unlike glued rhinestones, sewn-on appliqués are easy to remove if you find you've placed them incorrectly.
Cut appliqués into smaller pieces for greater flexibility in placement, but be careful not to cut threads that hold sequins or other embellishments in place.
Sew appliqués on parts of the dress that you would like to accentuate. Embellished lace looks particularly nice on the lower parts of the dress, and won't irritate your legs the way rhinestones might.
Accessorize
Add sparkly accessories. A beautiful statement necklace or a pair of stunning earrings can make a simpler dress pop. When wearing earrings, put your hair up, so that the earrings are more visible.
Embellish your hair. Add a glittery hair pin or headband for an instant glamourous touch.
Choose shoes that make a shining statement. Wear silver shoes for a delicate sparkling effect or go with glitter shoes if you really want to dazzle.
References
Fabric Embellishing: The Basics and Beyond; Ruth Chandler
Writer Bio
Daisy Richelle Post is an art, fashion and beauty journalist, writer and editor who specializes in contemporary art, British fashion and natural living. She has worked for several international art and fashion magazines as both a journalist and an editor. She holds a Bachelor of Arts in art and media and a Master of Arts in multimedia journalism.
Photo Credits
Jack Hollingsworth/Digital Vision/Getty Images