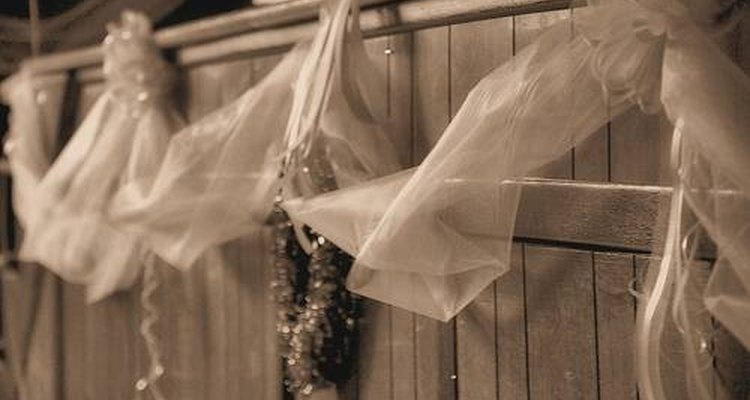 The right wedding decorations for the ceremony and reception pull everything together. Combining the right materials, colors and designs give the overall wedding a polished look and set the tone. Using tulle for your wedding decorations adds a touch of class and lends to a romantic fairytale-like setting.
Ceremony
Tulle can be used in the ceremony in a few ways. If there is a unity candle being lit, or another meaningful tradition, tulle may be woven around the table with strings of light or silk ribbon. Pew decorations will have a simple elegance when you use tulle bows with tails of tulle and ribbon. Add a small bouquet of sample flowers from the bride's bouquet, or just use the bows alone as decoration. You can also hang swags at the end of each row of guests. Wrap tulle around stairway banisters and entranceways. If an arch is used, tulle can be wrapped around the arch or draped from the arch to have a dream-like effect. If you are having an outdoor wedding, mark the walking paths by making a delicate fence out of tulle. Rent stands and rope the tulle across the hooks. Place a battery-lit candle or flowers on top of the stands.
Reception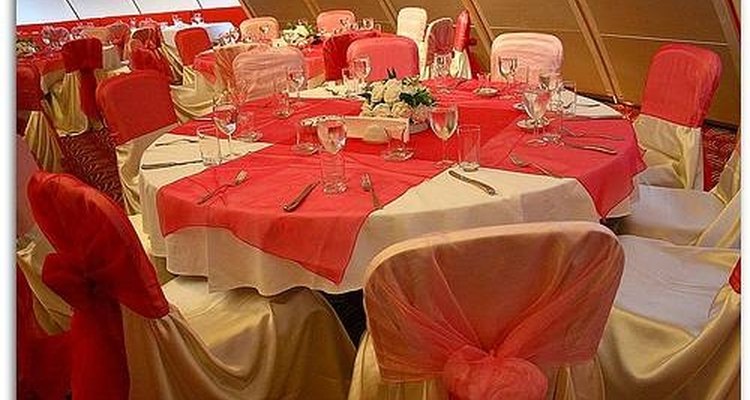 Create a beautiful ceiling canopy by draping tulle from the ceiling to hang over the dance floor or the head table. Plain white chairs can be dressed up with colored tulle bows that match the wedding colors. You can also make a chair wrap by pulling 4-foot long pieces of tulle around the chair and tie with a square knot. You can decorate the back with a pull bow. Tulle can also be strategically placed around the cake table or draped from the head table. Use the tulle as a runner and sprinkle confetti or rose petals around it. For a beautiful shine, scatter clear flat marbles on top of the table, surrounding the cake, unity candle, gifts or centerpiece. Tulle can be incorporated into the centerpieces by adding bows or wrapping the tulle around the base of a candleholder or vase. Use tulle as a wrap for bird seeds, bubbles and favors.
Other Considerations
Use white tulle for a classic, timeless look or use colored tulle to coordinate your decorations with the rest of the wedding theme. Better yet, mix some white tulle with colored tulle for a completely different look by twisting them together. You can create unique decorations by adding greenery, colored ribbons, flowers and bows to your tulle. For an extra special touch that adds a touch of romance, place a string of lights behind the tulle.
Safety
If you are using tulle near hot items, candles or other open flames, make sure the tulle is placed so that it will not catch on fire. Safety trumps decorations any time.
Preservation
Put your finished tulle decorations in plastic bags or containers. Do not cram them in as they smash easily. You will want them in perfect shape for your wedding day.
References
Writer Bio
Janece Bass is a freelance writer specializing in weddings, family, health, parenting, relationships, dating, decorating, travel, music and sports. She has been writing for more than 15 years and has numerous published pieces on various websites and blogs. Bass has also ghostwritten various fiction-based novels.