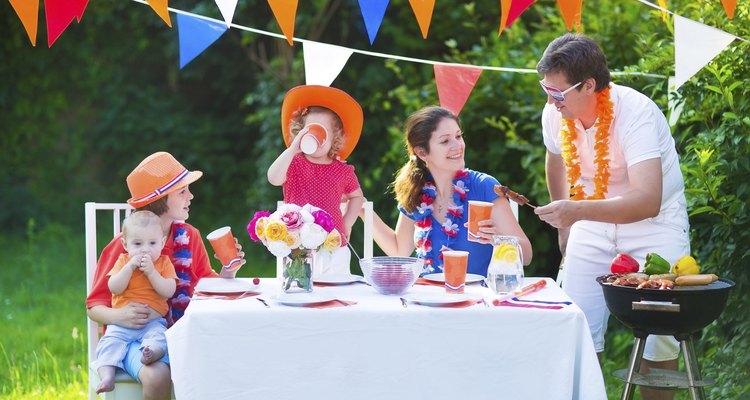 FamVeld/iStock/Getty Images
Pavilion decorations range from simple crepe paper streamers and balloons to elaborate one- or two-dimensional cardboard creations that transform the space into a pirate ship, royal castle or cityscape. Check with the pavilion owners before using tape that might damage the paint on posts or railings, and then let your imagination run wild.
Wrap the Posts
Make the job of decorating the pavilion poles easy by wrapping crepe paper up the poles in single or alternating colors, or use fabric strips to match the party theme -- let loose ribbons of crepe paper or fabric dangle down from the top of the poles. For more elaborate decorations, use thicker material such as real or artificial garlands of flowers or grasses and insert sprigs of additional flowers here and there to create a lush, treelike effect.
Decorate the Posts
Much as you would string popcorn for a Christmas tree, you can also string toys or other objects, with knots in between so that the objects don't slip, and use those strings to adorn the pavilion poles. For example, for a child's birthday party, punch holes in baseball cards and string them around the posts along with baseball-player bobblehead dolls or stuffed animal team mascots. Or use larger figures, such as scarecrows for a garden club event; tie a figure to the post with piece of twine around the waist and neck and hide the twine with a belt and scarf.
Hang Decorations
String paper lanterns, banners and pennants celebrating your event from post to post or from the center of the pavilion ceiling out to the edges of the roof. Keep the garlands high enough so that guests don't bump their heads on them, and avoid using lights for a nighttime event unless you can plug them in without letting the cords become a tripping hazard. The center of the pavilion ceiling also works well for a large hanging decorations, such as a pinata or a flower bouquet.
Create Boundaries
Blocking off one or more of the open sides of the pavilion gives your event a bit of privacy. Use fabric panels or shower curtains that fit your party theme, and hang them with rope tied to the pavilion posts -- light blue fabric with fish pinned on works well for an under-the-sea party, while lace or tulle work for an informal bridal shower or tea party. Make boundary fences from helium balloons attached to heavy rocks or from cardboard cut into shapes and painted to match other decorations.
References
Resources
Writer Bio
Susan Lundman began writing about her love of cooking, ingredient choices, menu planning and healthy eating after working for 20 years on children's issues at a nonprofit organization. She has written about food online professionally for ten years on numerous websites, and has provided family and friends with homemade recipes and stories about culinary adventures. Lundman received her M.A. from Stanford University.
Photo Credits
FamVeld/iStock/Getty Images