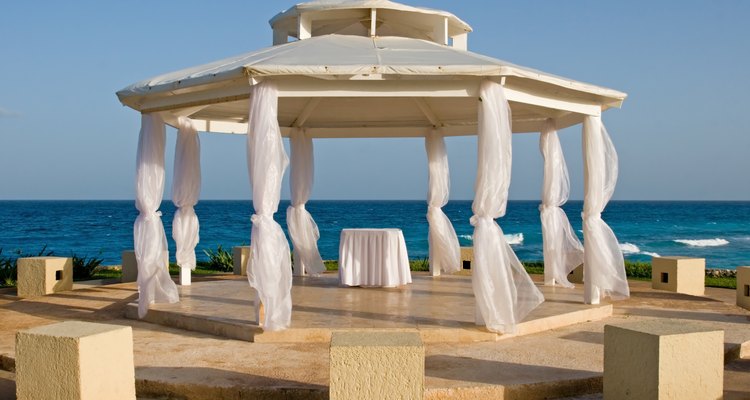 Chad McDermott/iStock/Getty Images
Tulle is a traditional material for decorating wedding sites. With a little creativity and splashes of vibrant flowers intertwined, tulle can transform a bride's wedding gazebo into a fairy tale dream. Made of silk, nylon or rayon, tulle is versatile. It can be twisted with other materials, folded or wrapped into a bow. Your wedding theme dictates how you use the tulle to create a gazebo masterpiece.
Sheer Elegance
For an elegant look, drape tulle over the entire roof of the gazebo, and let it cascade down over the posts. Wrap each post with excess tulle and gather the material in the middle with a colored ribbon or bow. For a dramatic look, layer the top of the post with one large sheet of tulle while bringing the excess into a pony-tail closure with ribbon three-quarters of the way down. Tulle in white, cream or gold add more glamour.
Natural Beauty
Fresh garland woven in and around each gazebo post is a natural way to add color to tulle. Use real fir, pine cones or berries to create this garden fantasy . Garland can also be handcrafted from plastic ivy vines and wire. For more vibrancy, place large flower bouquets at the top rim of the gazebo and around the middle of each post and archway. String small flower bouquets shaped into balls with ribbons on each of the gazebo banisters.
Light It Up
Wrap strings of lights around all the tulle draped over the gazebo for a dramatic starry glow. For the nighttime romantic wedding, position the lights individually around each post and across the roof of the gazebo. Hang small chandeliers in between the arches of the gazebo just behind the tulle for extra radiance. To soften the ambiance, use lanterns inside the gazebo to make the tulle shimmer.
Archway Romance
Isolate the archway of the gazebo to create the ultimate romantic scene. Drape tulle from the top middle of the archway down to the left and right sides for a theater curtain effect. This design will draw the guests' attention to the bride and groom standing directly under the archway. Tie off the two sides of the tulle with big flower bouquets or colorful ribbons. At the very top of the archway, place a large bouquet of flowers with colors that match your wedding theme.
References
Writer Bio
Based in Livonia, Mich., Margo Dewey has been writing cultural and society-related articles since 1987. Her articles have appeared in "Suburban Living" magazine, "Associated Newspapers", and "Oakland Business Monthly" magazine. She also produced a wedding cable series, "Just For The Bride". She has achieved the Michigan Press Association Award. She holds a Bachelor of Science in journalism from Eastern Michigan University and Bulmersche University in England.
Photo Credits
Chad McDermott/iStock/Getty Images