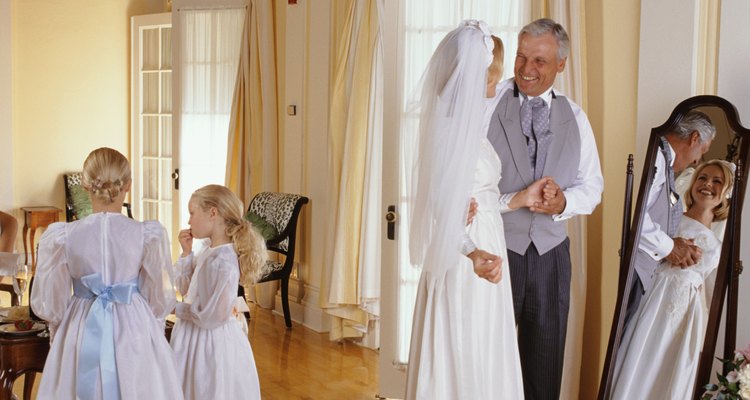 Buccina Studios/Photodisc/Getty Images
A wedding can be customized to match the desires and budgetary needs of the couple. Some couples prefer a big, fancy wedding for their special day, whereas others desire a small, intimate gathering of only the closest family and friends. For a very small wedding, the couple may choose to hold it indoors in a home. Even if you choose a small home wedding, you can still use simpler and less extravagant decorations than you would for a wedding ceremony and reception in a hall or other venue.
Lay a white aisle runner down your makeshift aisle just as you would in a church. A runner defines a clear pathway for the bride to walk down. and it helps to give the wedding ceremony a more traditional feel.
Place large bouquets of beautiful flowers or potted plants on tables in the room, as well as the surrounding area in which you will exchange your vows. Ensure that you coordinate the color of flowers with your wedding theme. Placing flowers or plants in this area help to draw the guests' attention to the front.
Create or purchase bows to fasten onto the backs of the chairs to make them look more festive. If you do not want to place a bow on the back of each chair, just use one bow on the back or side edge of a chair at the end of each row of chairs.
Hang streamers from the ceiling. Use white and any accent color you choose for your wedding theme. The streamers can be used to create a canopy over the area where the bridal couple will exchange vows. To create the canopy, tape one end of each of the streamers to the ceiling in a group directly over the spot in which the couple will stand. Separate out each individual streamer and tape each one to the ceiling about a foot or two away from the spot where the ends of the streamers are attached in a group. Leave about 2 to 3 feet of streamer looping down before attaching each streamer to the ceiling again. Position the streamers so they create a circle of loops around the initial grouping of streamers.
Hang white Christmas lights along the ceiling around the edges of the room. Set them to twinkle if you can. The twinkling lights provide a romantic and magical atmosphere to the room.
Set candles on the tables in the room and light them during the ceremony for a soft, romantic glow. However, be sure to keep lit candles well away from fabric, plants or other objects that may start a fire.
Writer Bio
Kimberly Turtenwald began writing professionally in 2000. She has written content for various websites, including Lights 2 You, Online Consultation, Corpus Personal Injury and more. Turtenwald studied editing and publishing at Wisconsin Lutheran College.
Photo Credits
Buccina Studios/Photodisc/Getty Images